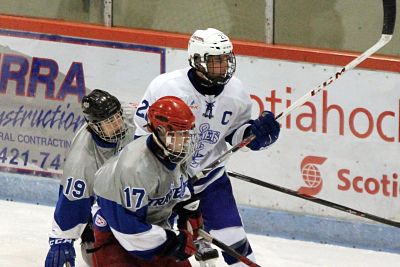 The Woodstock Navy Vets blanked Delhi 6-0 on Friday evening at Southwood Arena.
WOODSTOCK - Two Woodstock Navy Vet rookies contributed to the Navy Vets 6-0 blanking of Delhi Friday evening at Southwood Arena. Navy Vet rookie Ryan MacDonald captured his first two junior hockey goals and rookie goalie North Davies had a 14-save performance to capture his first shutout win in his first junior c game.
After a scoreless first period Nathan Innes scored on the powerplay from the blueline to open the scoring for the Vets. Rookie Ryan MacDonald made it 2-0 with his first junior goal. MacDonald followed up in the third period with his second goal of the game. Newcomer Ricky Johnston boosted the Vets to make it 4-0. Justin Elms and Michael Nutt closed out the scoring for the Vets.
Jake Schneider had 2 assists to extend his league-leading point scoring streak to 12 games while Mike Gillespie had 2 assists to move into a 3-way tie for the league scoring lead with 31 points.
The Vets remain in third place with a 16 and 9 record just 6 points back of second place New Hamburg, they have 9 out of their last 10 games
The Vets are back at it this evening hosting Highway 59 rivals Tavistock Braves at Southwood Arena at 7:45 p.m.