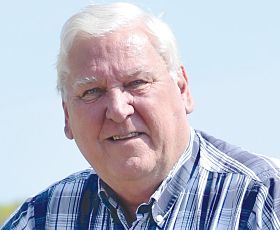 John Scholten would like to hold on to his Ward 1 council seat in council chambers.
NORWICH TOWNSHIP - The councillor of Ward 1 in Norwich Township is looking to stay in office.
John Scholten will be running for re-election this fall.
He has spent most of his life in the John Deere Farm Equipment business and has applied that knowledge in council chambers.
"In principle it's a business that you're running and it has to be run as a business. That means good financial planning, good decisions regarding pro-development and to build the township bigger and better."
He says the current council has worked well together over the past four years, encouraging new development in the area.
Scholten has big plans if he is elected for another term.
"One of the things that we would like to do is try and spend more money on roads and bridges because it's very much required, some of them are in a bad state. We also want to continue with development in the township which right now is just booming and we'd like to keep that going because that just swells your tax base."
Norwich Township residents will head to the polls on October 22nd.