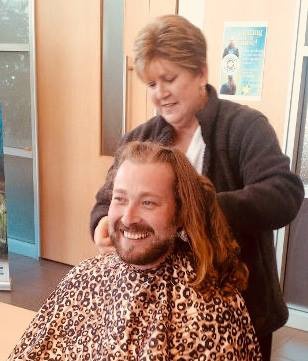 Woodstock Mayor Trevor Birtch cuts his locks for cancer patient wigs last year, and now he is doing it again
Woodstock residents will have to get used to a new look for their Mayor
WOODSTOCK - You will have to get used to seeing the Mayor with less hair this summer after he cuts it for a good cause.
Mayor, Trevor Birtch talks about who will be picking up the scissors.
"The mayor is in need of a haircut. We will be having the survivors as well as some of the top donors to the campaign cutting the locks off at the Terry Fox track during the Relay for Life."
This year Relay for Life is on June 8 from 6:00pm to 12:00am at CASS. Birtch will be having his hair cut just prior to the opening ceremonies.
This will mark the third year Birtch will have his hair cut for cancer. The first time he had inspiration to cut his hair was when his life time barber closed her shop and his hair got long. During this time he saw a story about a young lady who cut her hair for a cancer wig. They had wished in the story that more men would do it because most women are unable to donate their because of salon treatments.
Birtch adds who he cuts his hair in honor of.
"My mother passed away of cancer when I was younger so I decided I would do it in honor of her. Once I was ready to do that first cut and let all of the donors to the campaign cut the locks, I went to the barber shop to arrange to have my barber come and clean me up after. That's when I found out that those times she was closed it was while she was dealing with her own battle for cancer. It made it extra special."