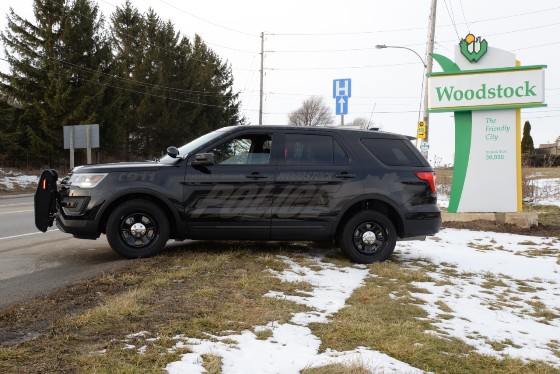 Woodstock Police brought in the Canine unit and Officer Striker to help them catch two suspects this weekend.
WOODSTOCK - It was another busy weekend for the Woodstock police who responded to 150 calls for service.
On Friday night police charged a 48 year old woman with driving while while under suspension and a 22 year old man from Woodstock with driving without insurance. Both parties were issued a summons to appear in Provincial Offences Court in Woodstock.
Also on Friday night police were called out to a manufacturing plant in the south end of the city. Officers arrived to find two women who had made it into the employee locker room. The ladies were stealing from the employees who were currently at work. One of the suspects fled in a vehicle right before police arrived. Other officers were able to find the vehicle she took off in about 10 minutes later in the north end of the city. The car had already been reported stolen to the OPP.
Woodstock Police brought in the Canine unit and Officer Striker was used to search the area where the abandoned stolen car was found. Striker was able to find several stolen pieces of identification that led officers to a 41 year old woman from Woodstock. She has been charged with theft. A 20 year old woman from Stratford was also charged with theft, possession of stolen property and fail to comply. Police also charged a 52 year old man from Woodstock with theft.
Woodstock Police were called out to Dover Street early Sunday morning after a man crashed into a parked car. The man fled the scene on foot and once again officer Striker was called upon to help track down the suspect. Striker was able to get his man and police charged the 32 year old man from Woodstock with fail to remain and impaired driving over 80.
Sergeant Don MacKenzie says it is discouraging to see people are still drinking and driving.
"It is disappointing that every week we are reporting on yet more individuals being arrested for impaired driving. There is no excuse and this individual is extremely lucky that he did not cause serious injury to himself or anyone else."