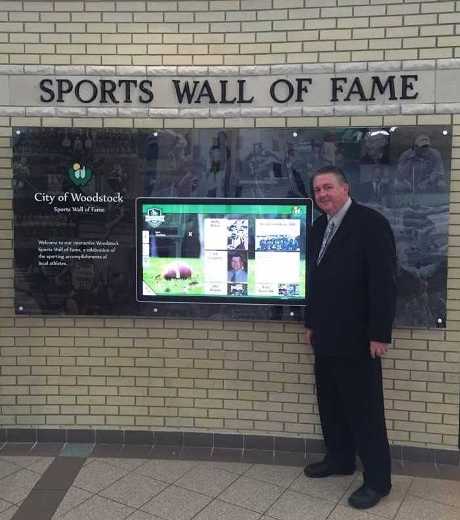 Credit: Mark Schadenberg
The inductees have been announced for the 2017 Woodstock Sports Wall of Fame.
WOODSTOCK - The inductees have been announced for the 2017 Woodstock Sports Wall of Fame.
Harry McIntosh has been named in the historic category.
Committee Chair Mark Schadenberg tells Heart FM was the owner of the Perry Street arena until the City bought it from him in 1948.
"For the first 35 years or so it was a privately owned building and we want to induct Harry McIntosh. What we're looking for is photos, newspaper clippings, anything you may have saved, Information on the McIntosh family."
Henry McIntosh also used to own a coal and lumber business in the Friendly City.
Schadenberg is hoping someone will step forward with more information.
"I think in general it's very interesting to try and figure out exactly who this individual was, who the person was this Harry McIntosh. He could have a grandchild still living in the city of Woodstock and we don't obviously know that."
Anyone with information on Henry McIntosh can reach out to Mark Schadenberg by calling 519-537-1553 or e-mailing mschadenberg@rogers.com.
Also being inducted this year:
FEMALE ATHLETE
Dawn Brokers:
National gold medalist in synchro skating with Nexxice Skating Team based in Burlington in 2008. As individual skater has passed all gold level dances. Elite level solo skater.

MALE ATHLETE
Michael Heath:
Competed in swimming in Paralympics (S14 designation; bronze at Global Games). At world Special Olympics in Greece in 2010 he won 2 gold medals including 50 butterfly.

TEAM
2009 Woodstock Wildcats girls' bantam hockey. Winners of a provincial Bantam 'B' OWHA championship and qualified for Ontario playdowns by winning Lower Lakes league title. Excellent regular season of 20-1-2.

BUILDER OF SPORT
Beth Lochhead:
A 35-year career in coaching figure skating in Woodstock, including involvement in annual skating carnival and is also a current director on club's executive.

Peter Ewing:
Long-time Woodstock high school basketball, including OFSAA silver in 1975 with a CASS boys' senior team. Played for Woodstock Kings in men's basketball. Was co-chair of Terry Fox Run in Woodstock in 2016.

Dan Sutherland:
Involved in fastball, oldtimers slo-pitch convener (Started league in 1987) and oldtimers hockey. Athlete, organizer, fundraiser, and member of Navy Club executive.

LIFETIME ACHIEVEMENT
Dr Peter Fowler:
Previously recognized as 'male athlete' as a Pan-Am Games medalist as swimmer. Significant contributions to sports medical community (Fowler-Kennedy Clinic in London). Chief medical officer for Canada at the Olympics.

Peter Campbell:
Extremely impressive 34 years as a OUA basketball head coach for Wilfrid Laurier Golden Hawks (16 years; school's all-time leader for wins) and Laurentian Voyageurs (2 OUA championships).
Ross Garner:
1964 senior pairs figure skating – 2nd at nationals and was named an alternate for Olympics. Competed in singles also. Power skating coach for NHL teams including Boston and Detroit. Passed away in 2006.
The induction ceremony is happening on Saturday October 28th at the Woodstock District Community Complex at 2:00 p.m.