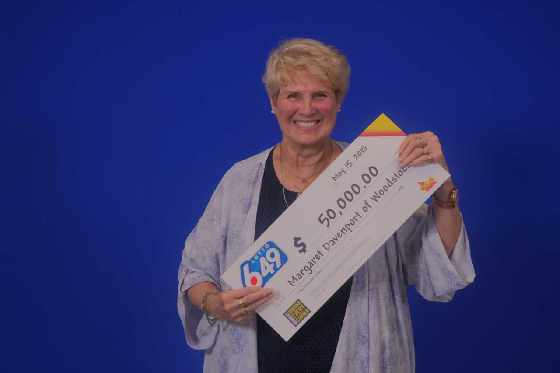 A 74 year old Woodstock woman is now $50,000 richer after purchasing a Lotto 6/49 ticket from the Woodstock Zehrs.
WOODSTOCK - A Woodstock woman is planning a vacation after winning $50,000 on a Lotto 6/49 ticket.
74 year old Margaret Davenport purchased her winning ticket at the Zehrs on Dundas Street. She was out shopping one day when she decided to check the three tickets she had purchased.
"Two of my tickets were not winners. The third ticket I checked was the big winner!"
Davenport has been trying her luck quite some time.
"I've been playing the lottery for about 20 years. I enjoy playing Lotto 6/49, Lotto Max and Daily Grand with Encore."
Davenport is a mother of one and has been married to her husband for 53 years.
The Lotto 6/49 Super Draw offered 50 guaranteed prize draws of $50,000 in addition to the main jackpot and the guaranteed $1 Million Prize Draw.