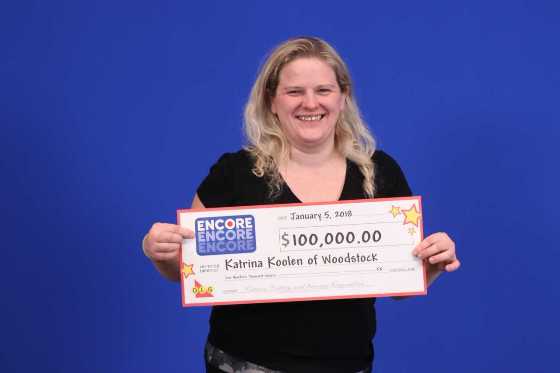 A woman from Woodstock won the $100,000 grand prize after playing Encore in the Ontario 49 draw.
WOODSTOCK - A woman from Woodstock is $100,000 richer after winning Encore in the Ontario 49 draw.
Katrina Koolen purchased her winning ticket at the CST Corner Store on Highway 11 in Gravenhurst. Koolen says she used the OLG lottery App to check her tickets when she got back home.
"The last ticket I checked was the big winner, I was so excited, my boyfriend thought the app was wrong!"
Koolen and her boyfriend went to a local store to check the ticket again and when they realized it was a winner, they began jumping up and down celebrating.
"Then I turned to my boyfriend and proclaimed, I told you 2018 was going to be a good year!"
Some of Katrina's future plans include putting a down payment on a house and going out for a celebratory dinner.