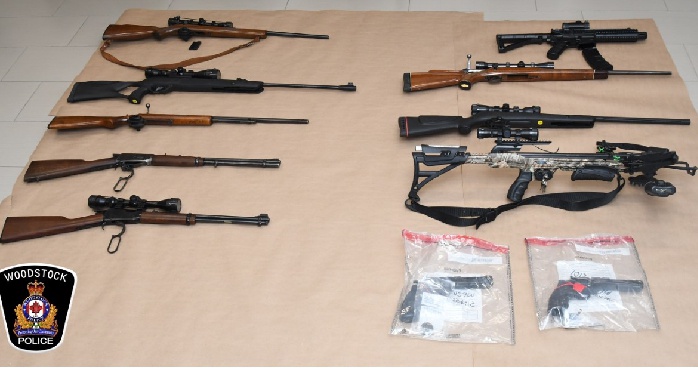 A 31 year old man from Woodstock has been arrested after police say they found stolen motorcycle parts, guns, weapons and drugs after executing a search warrant in Woodstock.
WOODSTOCK - An investigation into a stolen motorcycle from Sarnia, led Woodstock Police to several illegal weapons and drugs.
The bike was stolen last October. On Monday while on general patrol in the area of Springbank Ave North near Naskapi Street, a Woodstock Police officer noticed the frame and parts of the stolen motorcycle attached to an ATV. Police arrested a man for possession of the stolen motorcycle parts, but the investigation was just starting.
According to police, the accused was also in possession of several weapons, including a stolen gun. A search warrant was executed yesterday and police say they found 10 guns, both real and replica, a crossbow, ammunition, cannabis, suspected methamphetamine, an ATV with stolen parts, and one of the guns had been reported stolen from Chatham-Kent last September.
31 year old Kevin Miller of Woodstock was arrested and charged with the following:
- Possession of Property Obtained by Crime Under $5000
- Possession of a Firearm, Prohibited or Restricted Weapon Obtained by Crime
- Possession of Firearm or Ammunition Contrary to Prohibition Order x8
- Careless Storage of Firearm, Weapon, Prohibited Device or Ammunition x2
- Possession of a Schedule I Substance - Methamphetamine
- Fail to Comply with Probation Order