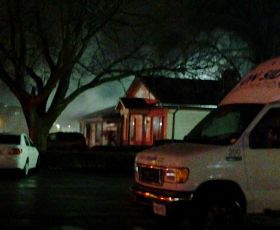 Photo submitted by Amanda Jones Griffin
Woodstock Police continue to investigate a fire Tuesday on Dundas Street
WOODSTOCK - Woodstock Police are continuing to investigate following a home fire on Dundas Street Tuesday.
Emergency crews arrived just after 11pm and could see smoke billowing from the roof top and flames coming from the back of the home. It took crews several hours to put out the blaze.
Fire crews determined no was was inside at the time.
Damage is pegged at 180 thousand dollars.
No further details have been provided.