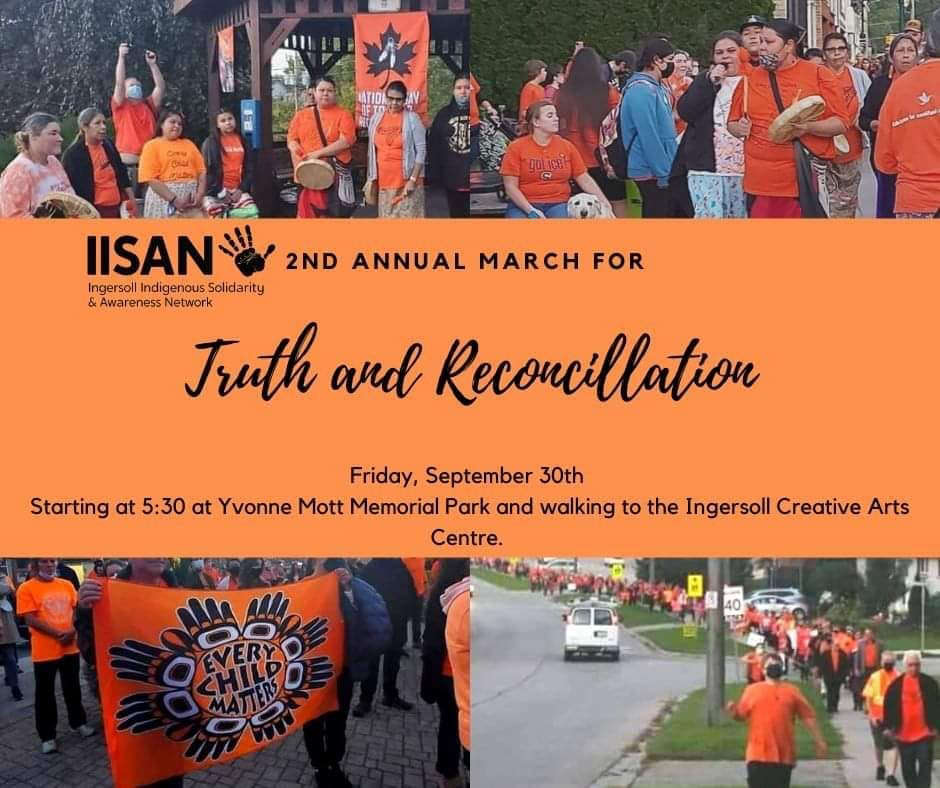 Ingersoll's 2nd Annual March For Truth and Reconciliation Facebook page
This year's March For Truth and Reconciliation will be less marching and more learning.
OXFORD - The National Day for Truth and Reconciliation is almost here, and Ingersoll and area Indigenous Solidarity & Awareness Network (IISAN) is hosting their second annual march.
IISAN and The March For Truth and Reconciliation were both created last year. They each exist to bring awareness to the truth and actively work towards recollection to prevent public misconceptions and promote positive healing between Indigenous and non-indigenous people of South-Western Ontario.
According to Patricia Marshall, a Cooperative Organizer at IISAN, last year's event was more of a public demonstration. This year, with the feedback from the community, will be less marching and more learning.
"It's more of an introspective event. This is about truth before reconciliation and that means understanding what has happened, what is happening and all of us working together so that way we're being a cooperative organization."
The march starts at 5:30 p.m. at Yvonne Mott Memorial Park and will end at the Ingersoll Creative Arts Centre located at Victoria Park. Marshall says four vendors have been set up so far and they will be at both venues at the beginning and end of the march.
Marshall also wanted to stress the educational purpose of the march and that the issue is more local than most realize.
"A lot of people think that this isn't a local issue. However, Oxford County is located between two of the oldest residential schools in Canada, one being in Brantford, and the other in St. Thomas. Both of them were long-operating schools. There will be a lot more information on that at the event, so I truly hope that people will come out to learn and open their hearts and their minds towards everything that has happened and is still happening."
The event is focusing on raising money and awareness for the Every Child Matters movement, the National Inquiry into Missing and Murdered Indigenous Women and Girls, as well as clean water for Indigenous communities.
There's no sign-up for the march, although if you would like to get involved with IISAN, you can send a message to the organization directly, and they will set up a meeting.
For more information about the event, you can visit their Facebook page.
Also, for National Day for Truth of Reconciliation in Canada and Orange Shirt Day, Heart FM and other radio stations across the country are partnering with the Gord Downie & Chanie Wenjack Fund for "A Day to Listen 2022." From 6:00 a.m. until 6:00 p.m., we will be playing special programming, highlighting Indigenous voices and stories. The overall theme will be "Messages of Hope" and it will center around four key areas; Cultural Reclamation, Language Resurgence, Art Practice, and Land-Based Learning Narratives. You can find more information online here.