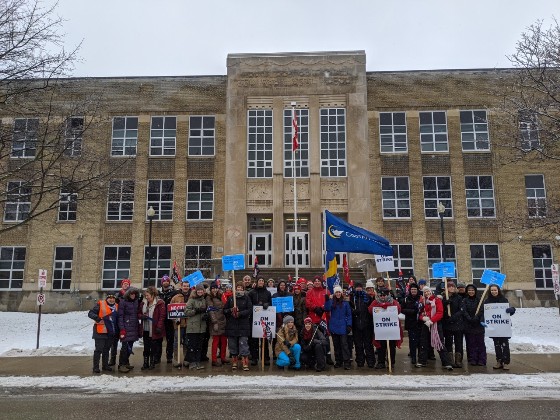 W.C.I staff protesting earlier this month in Woodstock.
High School Teachers are striking again today at 10 school boards across the Province, including Thames Valley. Talks between the Province and the union have completely broken down as the sides remain far apart on key issues like class sizes.
WOODSTOCK - The Ontario Secondary School Teachers' Federation (OSSTF) will be going on strike today in the Thames Valley School District.
Today the OSSTF will be conducting a one day walkout in protest to the Ontario government's school proposals.
President of Thames Valley district 11 John Bernans explains what the biggest issues they have are.
"The three big issues we talked about at the table were class sizes the government's proposal to increase them, mandatory E-learning the requirement that students take two E-learning courses to graduate, and cutbacks in professional support for at risk students."
Ontario Minister of Education Stephen Lecce issued a statement last week that the teachers biggest issue has more to do with wages and salaries.
"Union leadership has made clear they will strike again unless we accept their demand for a $1.5 billion increase in compensation, which includes pay and benefits. We value teachers and their commitment to our students. However, OSSTF teachers on average makeover $92,000 per year and are the second highest paid in the nation."
Bernans says he found that statement insulting.
"I find that insulting, in bargaining not one word was mentioned about compensation. It all fell apart because they could not get past the cuts around class sizes, E-learning, and professional support staff."
10 boards will be walking out including Lakehead District School Board, Thunder Bay Catholic District School Board, Lambton Kent District School Board, Waterloo Region District School Board, Waterloo Catholic District School Board, the York Region District School Board, the York Catholic District School Board, the Halton District School Board, Kawartha Pine Ridge District School Board, and Thames Valley District School Board.
President Bernans says they will be picketing.
"They'll be on a one day strike from all schools and worksites. That will affect some elementary schools, all secondary schools will be closed, and our members will be picketing at select secondary schools and at the Conservative MPP's office."
He adds that most elementary schools will not be affected.
"Elementary schools will be open except the French speaking ones. What I mean is that we have members who are psychiatrist, psychologists, school support counsellors, social workers, attendance counsellors, audiologists, speech language pathologists, first nations and Inuit counsellors, who all work in elementary schools so those services won't be available tomorrow but the schools will be open."
The School boards say that because of the strike there is insufficient supervision to ensure student safety. All out-of-school activities like field trips and after school sports are cancelled. Parents and guardians should find alternate arrangements for their children if needed.
Bernans adds, he doesn't think that the premier is listening to the people.
"Well I will say that it is very disappointing that this minister continues to talk about cuts. He says he is focused on students, clearly these cuts are bad for students so I don't know how he justifies that given the climate."
There are no meetings scheduled as of yet to continue negotiations in the matter, but hopefully an agreement that suits both the educators and the students is reached.