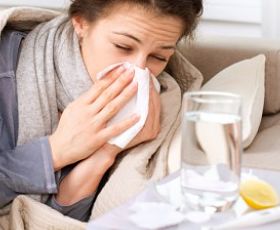 Alcohol based hand sanitizer is a good accessory this holiday season to help keep you illness free.
OXFORD COUNTY - With the hustle and bustle of the holidays, it's easy to fall ill after family gathering or shopping trips.
Program Supervisor in Health Protection Oxford County Public Health Elaine Reddick says respiratory illness or influenza is common this time of year.
"My main tip for people with that, is to get immunized against influenza -- that is your best bet. On top of that to be practicing washing your hands or using an alcohol based sanitizer while you're out. Make sure your hands are cleaned at appropriate times. Avoiding touching your face or your nose or your mouth while you're out."
Reddick says norovirus is also common this time of year. "Which is a virus which passes person to person and gives you an illness that involves diarrhea, vomiting and nausea and you can feel pretty bad with that. Even though it's passed person to person, it can be passed through food. We always tell people this time of year, if you're sick with those symptoms please don't make food for other people."
Reddick says food borne illness is also possible and to ensure all food is cooked to the proper temperatures and not left to sit out for too long.