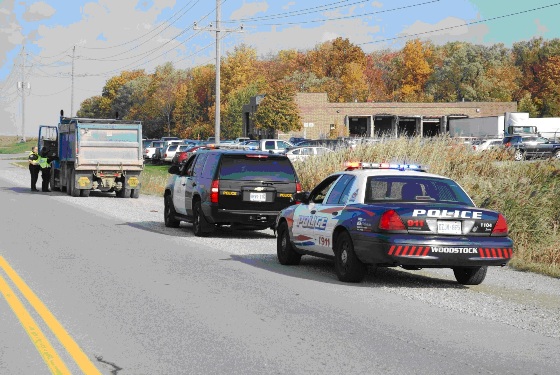 Woodstock Police responded to 11 collisions in the Friendly City over a 3 day period.
WOODSTOCK - It was a nasty weekend on the streets of Woodstock where police officers responded to 11 collisions.
Remarkably nobody was seriously injured in any of the collisions, however a few of them did cause significant damage.
Police are searching for the driver of a Silver Escalade that was involved in a hit and run on Oxford Road 4. The driver of the Escalade took off after rear ending a 53 year old woman on Friday afternoon. The crash caused about $2,000 in damage to the car.
Another crash on Norwich Ave on Friday afternoon caused about $10,000 to both vehicles.
Police also responded to a collision where a four year old was in the back seat and a 28 year old man from Woodstock was charged with following too close.
Woodstock Police were busy on Saturday and Sunday as well with another run of collisions. One of the crashes on Sydenham street resulted in $2,500 in damage and a 24 year old man from London was charged with fail to yield.
Woodstock Police did issue the following tips to help prevent you from getting into a collision this holiday season.
* Slow down. Stay under the posted speed limit if it's too fast for existing conditions, especially if it is dark, raining, snowing, or if you are in an unfamiliar area.
* Don't tailgate. Keep a safe distance between you and the car ahead so that you can stop in time if they slam on the brakes.
* Don't drive distracted. If you're traveling with someone else, ask them to adjust the radio or air conditioning. Don't talk on the phone or text. Studies show that even with a hands-free unit, your driving ability is compromised.
* Don't drive drowsy. On long trips, take a break at least every two hours. If you feel tired, stop driving and take a nap or find a hotel for the night. Caffeine can promote short-term alertness, but it is not a replacement for restful sleep. Be mindful of any medications that you are taking that may cause drowsiness.
* Know your limits. As you get older, your night vision, peripheral vision, and reaction time decline slowly over time. Don't drive at night if it makes you uncomfortable. Increase the distance you allow between your vehicle and the one in front of you. Schedule appointments so you're not on the road during rush hour. These are also good suggestions for newer drivers.
* Think ahead and signal early. Don't wait until the last minute to get in the proper lane to exit or make a turn. Use your turn signals early to give other drivers plenty of notice.
* Head off road rage. Change lanes when you can to give merging drivers room. Let others pass you. Use caution when changing lanes. Don't retaliate if others drive aggressively.
* Dim your lights. Turn the high beams down if you're behind another car or a vehicle is coming your way.
* Make several shoulder checks when you are in private parking lots or you are reversing from a parked position.