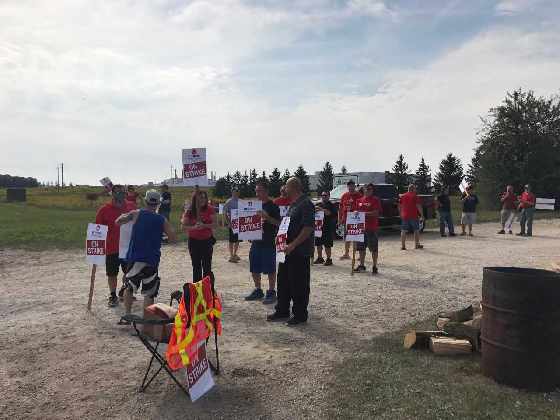 Courtesy: Marcie Culbert, Heart FM News
Picket lines are still set up outside of the entrances to the Ingersoll Cami Plant.
INGERSOLL - Employees are continuing to strike outside of the Cami Plant in Ingersoll.
Multiple picket lines have been set up at different entrances to the plant on Ingersoll Street South.
Mike Van Boekel, the plant chair for Unifor Local 88 explains why employees began their strike at 11pm on Sunday.
"GM has now opened up two plants in Mexico to also build the Equinox, they're producing it and we are demanding a letter that will keep us at least going guaranteed for the life of the contract to keep building the Equinox and they do not want to provide us that letter at all."
Van Boekel adds the GM plants in Mexico will be paying their employees $3 an hour, something the Cami Plant cannot compete with,
The local plant used to build both the Chevy Equinox and the GMC Terrain. Terrain production was moved to Mexico in July, resulting in the layoffs of 400 local employees.
Van Boekel tells Heart FM they have received an overwhelming response from the community so far.
"Right now it's a very good atmosphere. We are aware though that will diminish as the time goes on, there's a lot of people looking for money as this is their main income so we will continue to talk and try to find a resolution."
Van Boekel does not know when the strike will end.