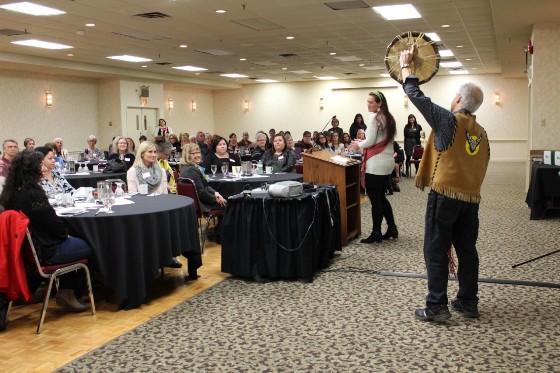 It was a packed house today at the Indigenous Education seminar at the Quality Hotel and Suites.
WOODSTOCK - Oxford County has spent the last couple of days celebrating indigenous cultures with a couple of education events.
Tribal Vision Dance performed at the Ingersoll Library and the Woodstock Art Gallery on Friday.
Today they hosted the Indigenous Education Day at the Quality Hotel and Suites.
Metis Nation of Ontario Community Wellness Coordinator Lisa Scott tells Heart FM what she hopes people got out of today's conference.
"It's all about education and knowledge sharing and finding out about the indigenous people and the services that are offered and some of the needs that those community members will have that differ from non indigenous members."
During the day they had some cultural knowledge exchange, the local medicine man did some drumming and they had some breakout sessions on truth and reconciliation. The afternoon session featured award winning author Joseph Boyden who led discussions about Indigenous cultural safety and reconciliation. Scott did want to congratulate Oxford for putting on this event.
"Way to go Oxford, it's really great that they have taken this on and that they have really done their due diligence to include as many First Nation, Inuit and Metis people that they can."
It was a packed house today for the seminar with 105 people in attendance. The County actually had to stop people from signing up because the event filled up quickly.