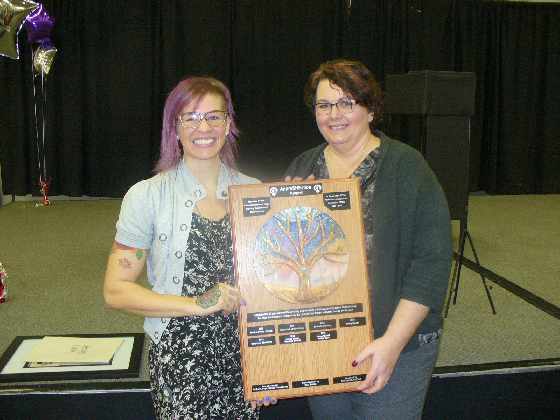 File Photo: Jenilee Cook and Allison Henkell accepting last year's AppreSHEation Award
The AppreSHEation Awards are now accepting nominations celebrating women championing female empowerment.
WOODSTOCK - The AppreSHEation Awards are looking for nominations recognizing women who are positive role-models for our community
Ingamo Homes Spokeswoman for International Women's Day Phyl McCrum says they are looking for women or groups who act as beacons of empowerment and support in Oxford County and beyond.
"It's really a lovely opportunity to say to somebody else in this community 'I see you, I appreciate you, and I honour the work that you're doing for women in our community."
The nominees can come from all walks of life according to McCrum.
"What we look for is nominations to come in from the community by people who recognize women in our community who have gone above and beyond to improve the status of women in Oxford County and beyond."
The award will be handed out during the International Women's Day Celebration on March 8th at the Oxford Auditorium from 11 a.m. - 1:30 p.m.
You can submit your nominations until Feb 16th and nomination forms can be sent to Sue Barg at SBarg@CASOxford.on.ca and you can call her as well at 519-539-1276 ext 319.