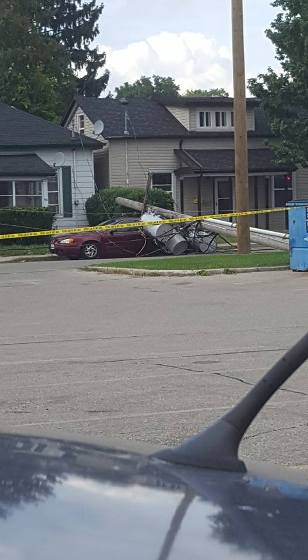 Woodstock Police are still investigating what caused the hydro poles to collapse last Thursday in Woodstock.
WOODSTOCK - Woodstock Police are not confirming that a crash caused the power outage in Woodstock last week.
On Monday Hydro One Communications Officer Nancy Clarke said a collision caused three hydro poles and 5 transformers near the Dundas Street and Huron Intersection to fall. This caused about 2,500 customers to lose their power and a parked car on Huron street was crushed by the hydro pole last Thursday afternoon.
Woodstock Police say they are getting conflicting reports from several eye witnesses about the event. They are hoping to speak with more people to try to get to the bottom of what really happened.
The Woodstock Police Service would like to encourage anyone having Information about this Investigation to Contact the Woodstock Police Service at 519-537-2323 or Crime Stoppers at 519-421-TIPS(8477) or toll free at 1-800-222-TIPS(8477).