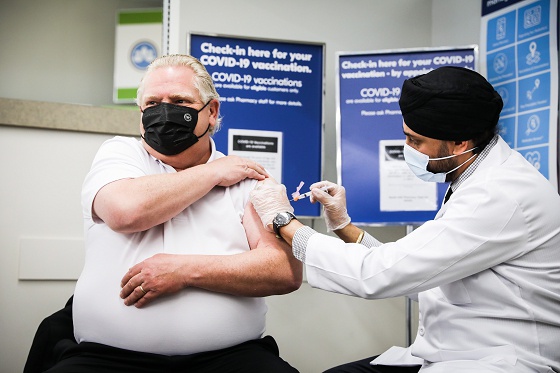 Starting November 6th seniors 70 and older, health care workers, First Nation and those who got two doses Astra-Zeneca will be eligible for booster shots.
The Province is expanding booster shot eligibility.
The following groups of high risk people will be eligible for booster shots of the COVID-19 vaccine on November 6:
- Individuals aged 70 and over (born in 1951 or earlier);
- Health care workers and designated essential caregivers in congregate settings (including long-term care home and retirement home staff and designated caregivers);
- Individuals who received a complete series of a viral vector vaccine (two doses of the AstraZeneca vaccine or one dose of the Janssen vaccine); and
- First Nation, Inuit and Métis adults and their non-Indigenous household members.
The shots are being offered to these groups based on evidence of gradual waning of immunity, six months after receiving a second dose and a higher risk of severe illness from COVID-19.
Chief Medical Officer Dr. Kieran Moore says this will provide some of our most vulnerable people with an extra layer of protection from the Delta variant.
"Keeping a low rate of infection in our communities and protecting our most vulnerable is how we can keep our schools, businesses and social settings as safe as possible while avoiding further lockdowns. To provide every individual the best protection while learning to live with the virus for the long-term, we are prepared to expand booster eligibility to all Ontarians pending clinical recommendations, with eligibility expanding this week to individuals who face a higher risk of contracting COVID-19."
Booking for booster shots will start on November 6th at 8:00 am. Those eligible will be able to book a booster shot through the COVID-19 vaccination portal or by calling the Provincial Vaccine Contact Centre, directly through public health units that use their own booking systems, through Indigenous-led vaccination clinics, select pharmacies, and primary care settings.