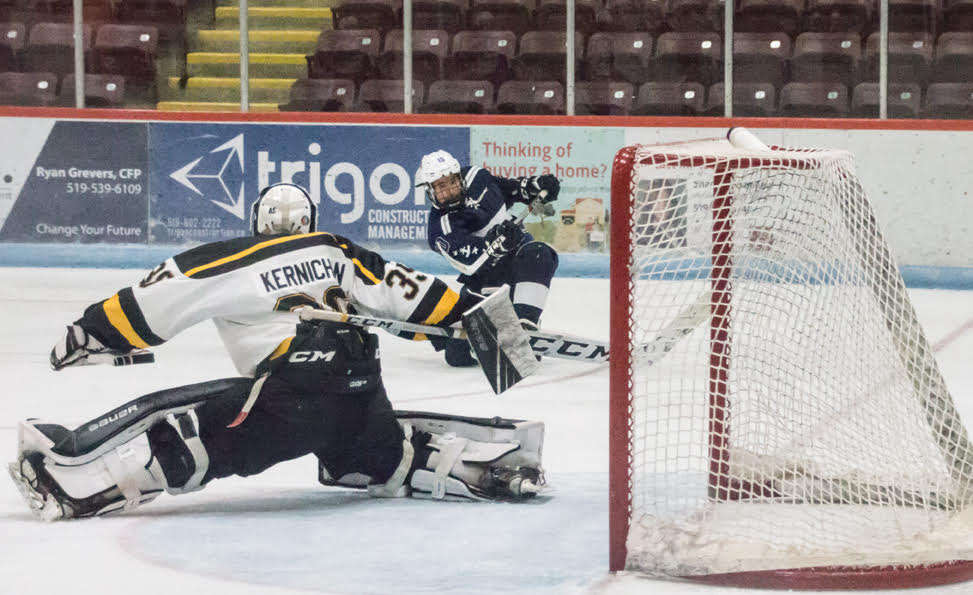 photo credit Jim Taylor
The Navy Vets took 3 out of a possible 4 points in their opening weekend and first time playing regular season games in front of fans in over a year.
WOODSTOCK - It was an emotional weekend for the Woodstock Navy Vets.
They came into Norwich for the season opener on Friday night. After a tremendous opening ceremony, the Merchants got the 2-0 early lead. The teams traded goals and then captain Kyle Baker evened things up to make it 3-3. After that, it was all Navy Vets who scored the next 7 goals unanswered to open the season with a 10-3 victory in a high scoring and emotional affair.
Special shoutout to Braeden Nelson who scored his first junior goal and assistant coach Chris Thompson who won his first game as a coach in the PJHL.
Then on Saturday night, the Navy Vets returned home to the Southwood arena in front of 400 fans against the Tavistock Braves.
This game was an epic battle between goaltenders with Keaghan Brett of the Navy Vets and Jeffrey Kernichan of the Braves each making some memorable saves. After 60 minutes, nobody had scored and the game went into O.T. The Navy Vets had plenty of chances to score during the 3 on 3 but ultimately came up short despite out shooting the Braves 35 to 23 on the night.
The O.T loss means the Navy Vets took 3 out of a possible 4 points on the weekend.
Up next for the Navy Vets is back to back home games this Friday and Saturday night against Burford and Wellesley.