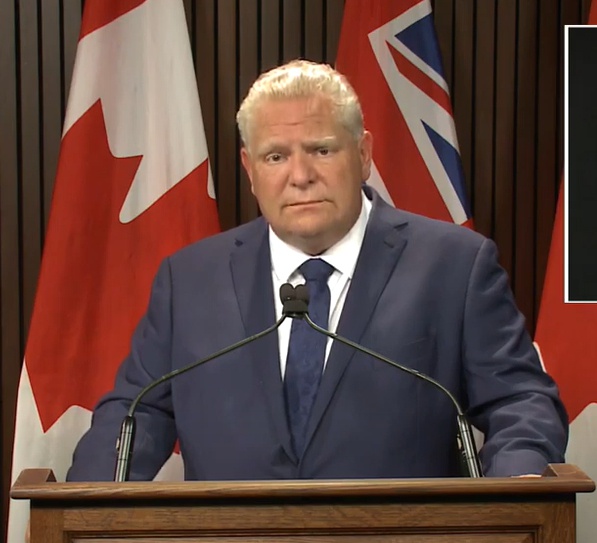 Premier Doug Ford says every option is on the table, including moving back to Stage 2 if the daily numbers continue to rise or we have another massive spike of COVID-19 cases in the Province.
ONTARIO - The Premier of Ontario says everything is on the table when it comes to keeping people safe.
Doug Ford was asked today if he was going to place more restrictions or call for more shutdowns for certain businesses like gyms and restaurants as the daily case numbers continue to climb.
"We are taking these measures so we don't have to do that, I think the more measures we put in to keep the economy going and keep restaurants open. I have always said these restaurants are following the procedures and protocols, I think they are doing a great job but in saying that, we will make sure that we review the numbers and if it's a huge spike, everything is on the table. I will listen to the health experts and that is who I am going to go on the advice from and it is not just one person, it is numerous doctors, health experts across this province who are giving us the advice. So that is who I am going to listen to but the reason we are doing this, is we want to avoid shutting down the economy, as long as we possibly can because I think that would be extremely difficult on a number of people.
Today the Province released another phase of their plan to prepare for the second wave. They are building on the largest provincial testing initiative in Canada by providing $1.07 billion to expand COVID-19 testing and case and contact management. The government is also immediately investing $30 million to prevent and manage outbreaks in priority sectors, including the province's long-term care homes, retirement homes and schools. These investments are part of the province's comprehensive plan to prepare the health system for a second wave of COVID-19.
Doug Ford was asked if the Province was trying to avoid reverting back to Stage 2 today at the presser and this was his answer.
"I think the copy of that plan was earlier on in the stage and as we forward, this is changing rapidly but again, I will stand here and say, if I get the advice the from the Chief Medical Officer and the Health Table that we have to go back to Stage 2, then I will listen to the health experts. We are doing all these measures to make sure we can keep the economy moving forward, we aren't at that point right now but again, everything is on the table."
You can read more about the Province's pan to invest $1 billion dollars in testing online here.
You can listen to the Premiers comments below: