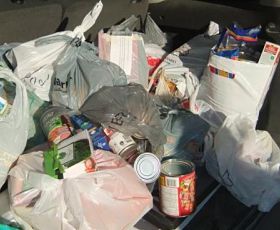 The Helping Hands Food Bank is hoping to match or surpass last year's success with this Saturday's Food Blitz.
TILLSONBURG - The shelves are bare at the Tillsonburg Helping Hands Food Bank ahead of a big Blitz.
Volunteers will be out collecting food donations on Saturday October 1st as part of an annual food drive Blitz. Coordinator Joan Clarkson says last year was a great year for the drive.
"Last year we got in over 22,000 pounds of food on the Saturday. It's called the Blitz and so within two hours we've collected everything we can."
Anyone who wants to contribute to the drive is encouraged to leave their donation outside for the volunteers.
"They buy food and they put it out on their front steps, usually in a bag where we can see and we'll come by and we'll take it and we're most grateful."
They are hoping to collect items for school lunches in particular to make sure no kid goes to school hungry.
The volunteers will be making the rounds in Tillsonburg from 10 a.m. until 11 a.m.