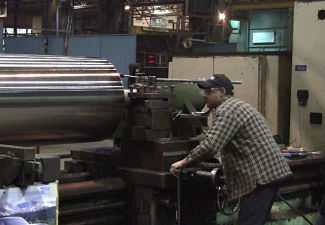 Inside Timerland Equipment Ltd.
A look at the looming labour shortage. Can Oxford County keep up with the needs of its economy?
"Help Wanted" - A 5-part series this week on Heart FM, where Adam Nyp takes an in-depth look at the looming labour shortage in Canada, and how Oxford County plans to compete, and evolve.
"We're the only County in North America that has three automotive assemblers..." - Cephas Panschow, Tillsonburg Economic Development
Oxford County is fortunate to be in such a position of strength. Over the last decade, a time of manufacturing job losses in southern Ontario, Oxford has been adding jobs by the hundreds. But with that success, comes the challenge to sustain.
An already aged local workforce is moving closer to hanging up their hardhats. Over the next 20 years, the number of working-age Canadians for every senior will fall from about 5 today to 2.7 by 2030. That's a nearly 50% decrease that's just starting to hit the local workforce - and has been referred to by the Conference Board of Canada as a "tsunami in slow motion".
The first wave of that tsunami is already making an impact for local companies like Timberland Equipment Ltd. Human Resources Manager Sharon Dykstra tells Heart FM, "We've already struggled with that, quite a bit. We've struggled very much with hiring engineers."
Never has Timberland been so successful, the large scale manufacturer just capped off a major expansion last year, but Dykstra says their success largely comes from the knowledge of their workforce. "In the last couple of years, we've seen a number of employees that have retired. We have a very customized product, so when we do have people that have been here for a number of years, and they retire, that knowledge leaves with them."
Oxford County's CAO Peter Crokett sees the challenges ahead for local companies, not only in the sense of replacing the experienced workers who are retiring, but to also keep young talent in the County for the new, emerging jobs that will be created in the future. "It's not just the manufacturing sector, all aspects of our economy have a technology perspective to them anymore. As our economy grows, we need to have a workforce for the jobs that get created."
So what can be done to replenish the local workforce? The buzz-phrase is: "Newcomer Attraction" -- opening the doors of Oxford County to new residents, and in some cases, new Canadians.
CEO at Community Employment Services, Jeff Surridge says we have no other choice. "The reality is, if we can't respond to the needs of business, we run the risk of losing those businesses. It would have a devastating impact on our local economy if we start losing employers because they couldn't find skilled workers."
Tomorrow in Part 2 of "Help Wanted", we'll explore the collaboration taking place to attract newcomers to Oxford County.