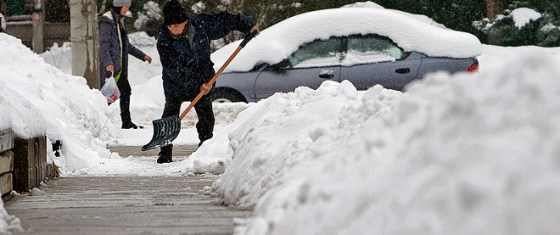 stock photo
A by-law has been passed on sidewalk clearance in the winter time in the Friendly City. Following Thursday's meeting people have 24 hours to clear off their sidewalks, receiving a notice at first, before having to pay the cost for the contractor to come and clean the snow.
WOODSTOCK - Woodstock City council passed a by-law to address sidewalk winter maintenance.
The by-law gives residents 24 hours to ensure their sidewalk is cleared.
Deputy Mayor Jerry Acchione says there will be no fines handed out in the first year, but the by-law will be going out and actively looking for places that aren't shovelled.
"A notice or a warning of sorts will be put on them. Repeat offenders, it is possible for us to send out city workers and it's not a fine they have to pay, but they'd have to pay the cost of whatever that contractor is."
By-law officers will patrol city sidewalks the day after a snow event to see the requirements are being met.
Deputy Mayor Acchione says the by-law is to help educate the public and make them more aware.
"There's been a lot of talk about the no parking area so of course we're encouraging more walking, so those pathways should be clean and safe for everybody here in the city of Woodstock. And I do encourage to be a good neighbour, help out your neighbours."
Staff's report says the by-law department will make a list of the properties that have not been cleared and give it to the contractor, who will begin to clean up the next day. The contractor will also take a picture of the sidewalk to show proof that it wasn't cleared by the time they arrived, and they'll take another picture after the work is done to show proof that it's been completed.
He adds that as of next winter, the fines can start to be imposed. So just to be clear, they won't be handing out fines this winter, however by-laws officers will be issuing warnings and then next winter, that is when you could get hit with a fine.
In staff's report, the new by-law recognizes in the event of a larger winter storm, it may longer to clean up than a normal snowfall. Therefore the Director of Public Works can declare a Significant Weather Event (SWE) in accordance with the City's Significant Weather Event Policy and if it is declared, cleanup will not begin until the SWE is over.
Acchione says he expects the public to come forward with questions and he really encourages media outlets to help promote the by-law so people are aware that sidewalks are expected to be cleaned.
The definition of sidewalk, excludes any part of a side walk that has accrued snow by City snow plows. So if a City snow plow has deposited snow on your sidewalk, that portion of the sidewalk does not have to be cleared by the owner. Plow operators will make an effort to not push snow onto the sidewalk, however in major snow events, they might have to.
The by-law goes into effect immediately.