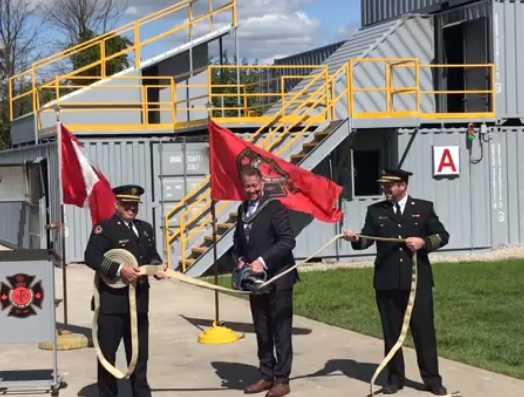 The Dräger Live Fire Training Facility was officially unveiled in Woodstock today at the fire station on Parkinson Ave.
WOODSTOCK - The Woodstock Fire Department unveiled their brand new fire training facility today.
It is built so that firefighters can properly train for various calls right in their backyard. The design is built in a way that it could be moved if needed and they can also add more stories to it at any point.
It features several levels, stairs and various ways that you can train for a fire. This is the only facility of it's kind in Oxford County and other fire departments have already inquired about possibly coming to Woodstock for their training. Previously to do training like this, the Woodstock Fire Department would have to travel out of town, which also meant firefighters were not close by in the event of an emergency.
Fire Chief Jeff Slager says it only took two weeks to build the facility and having this nearby is going to be a huge help.
"So if they do get a call, they will be able to shut the training down, hop in the front line truck and respond and be able to go. They can perform that training now anytime throughout the day and all of our resources remain in the community."