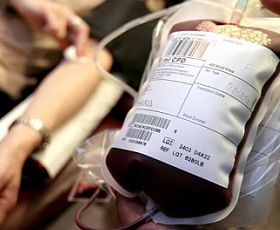 Blood Donor Clinic scheduled for New Year's Day in Woodstock
OXFORD COUNTY - Blood Donor Clinic's struggle to keep up with hospital demand, especially during the holidays.
According to Territory Manager for Blood Clinics, Lisa Ruck, many constant donors go away on holidays and blood bank collection is low especially during the last two weeks of December when there are no clinics on Christmas Eve, Christmas Day and Boxing Day. Oxford County Blood Clinics will be hosting a New Years Day clinic at Goff Hall for those interested in donating. The clinic is set for later in the day so people can recover after New Year's celebrations.
A nurse from the Canadian Blood Services advises those who are planning to donate to ensure they are eating and get proper rest the night before. If you are taking part in the festivities by drinking alcohol ensure you are drinking in moderation and on a full stomach. If you are intoxicated the night before the nurse advises waiting 12 hours from the point of sobriety before donating blood.
Clinic Details:

Where: Goff Hall
When: January 1st, 2015
Time: 12 p.m. - 3 p.m.