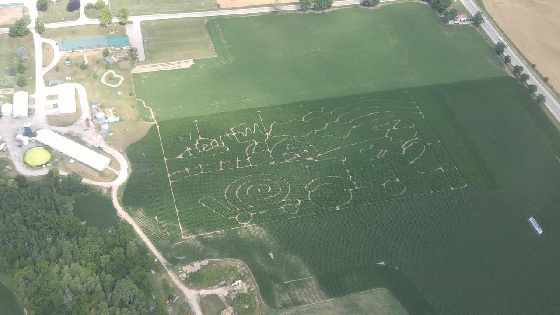 The corn maze at Leaping Deer Adventure Farm is opening in August.
INGERSOLL - Leaping Deer Adventure Farm is getting ready to open their corn maze to the public next month! The maze, located northeast of Ingersoll, will open to the public for the first weekend in August and will run til the first weekend in November.
Owner Don Budd says families always have lots of fun trying to find the hidden tractor in the maze.
"We hide a tractor out there and some people get their family pictures every year on that tractor. If they can't find it they come and tell the staff they can't find it so some of the staff members take them out and show them where the tractor is so they can get their picture."
This will be Leaping Deer's 11th corn maze and this year the design features a farm scene with the Heart FM logo.
Budd adds people of all ages always have lots of fun at Leaping Deer.
"Everybody becomes a kid when they come to Leaping Deer no matter what age you are. We have lots of activities for all ages, be prepared to spend several hours there because there's lot's to do."
Click here to learn more about Leaping Deer Adventure Farm.