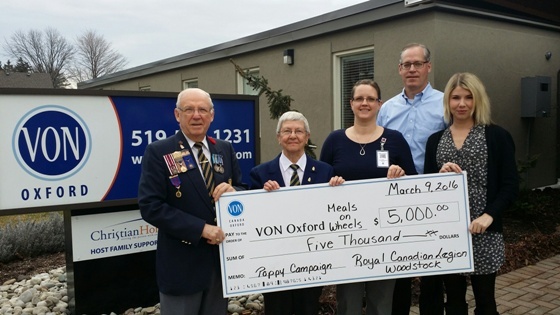 VON Oxford is receiving a very generous donation from the Woodstock Legion for their Meals on Wheels and Sakura House.
WOODSTOCK - The Woodstock Legion has donated $10,000 to VON Oxford.
Two cheque presentations will be made today. The first one happened this morning and it includes $5,000 which will go towards the VON Meals on Wheels program. Manager of Fund Development with VON Oxford Catherine Dorais-Plesko tells Heart FM she is blown away by the generosity of the Legion and notes this will help support a great cause.
"So it's wonderful that they are supporting a program that will help seniors and those who may not have the ability to cook their own meals to have hot meals delivered to their own homes."
Dorais-Plesko says they have another cheque presentation this afternoon.
"We are getting another $5,000 donation from the Legion again, from their poppy sales again and this money will go to support the Sakura House, our regional hospice."
One thing she wanted to add is the VON is always looking for more volunteers.
"So we need volunteers to actually take the meals to our clients, so if anyone is interested in becoming a volunteer they can call the VON office and we will be happy to provide them with all the details."