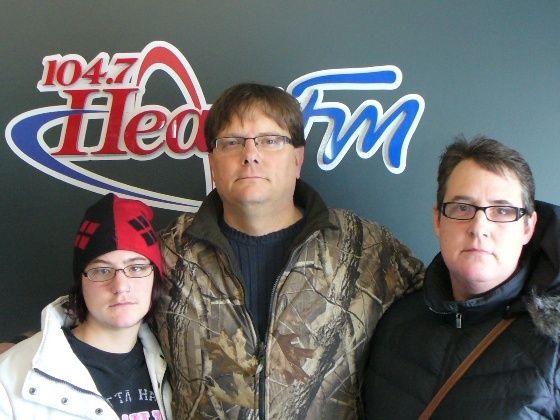 Three people and their pets were able to escape a devastating house fire over the weekend in Eastwood.
A family from Woodstock is having to start over after a devastating weekend fire.
Paula and Terry Empey were sleeping when they woke up to the smell of smoke at their home just outside of Woodstock in Eastwood on Saturday morning around 6. Terry Empey tells Heart FM they had to react quickly to escape the flames.
"We rounded up everybody, we woke up our daughter and grabbed our animals and that is when the smoke detector kicked in and got out of the house. We called 9-1-1 and it seems like it took forever and a day but they got their as fast as they could and they did everything they could to save the home. They sent three firefighters to assess the damage and when they went back in the house, there was a back flash at the front of the house where the living room is and unfortunately this is where we are today."
The house was almost completely destroyed. It suffered about 50 percent damage and almost all of the Empey's possessions were destroyed. The family was inbetween insurance brokers at the time of the blaze and they have basically lost everything. They actually had the paperwork to fill out for their new brokers inside the home when the fire started. The Empey's were renting the home, and the homeowners did have house insurance, however that will not cover any of the families possessions.
Right now the Empey's are staying with their neighbours while they try to figure out the next steps. Paula Empey tells Heart FM the support from the community has been amazing.
"We are very grateful for what everybody is doing for us, words cannot say enough of how much we appreciate what everybody is doing."
It is believed the fire started in the chimney sweep.
This was a very difficult weekend for the family as Terry lost his grandfather John Empey the day before the fire. A co-worker has started up a GoFundMe page to help the family get back on their feet. They have also gotten a number of donations from the public, however right now they do not have any storage. The family needs everything from clothes, furniture and beds.
You can find out how you can help on their GoFundMe page here.