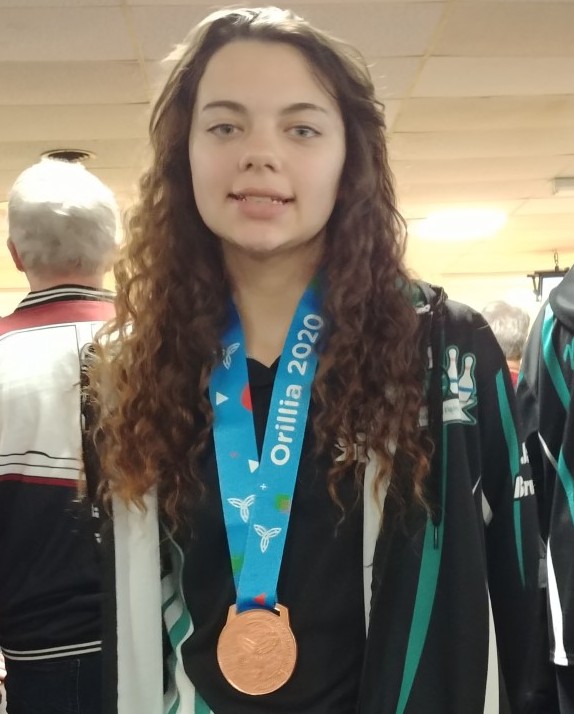 submitted photo's
16 year old Jaden Brushett of Ingersoll will represent Ontario at the National championships for 5-pin bowling later this month.
INGERSOLL - A teenager from Ingersoll is heading to Nationals for bowling.
16 year old Jaden Brushett recently won a bronze medal with her team from Middlesex Elgin at the Ontario Winter Games. Brushett currently attends IDCI and explains how she got into 5 pin bowling.
"I used to play softball as a kid and during the off season when I wasn't playing softball I would bowl just to keep my arm and aim pretty straight, because I used to be a pitcher."
Jaden says they had a blast competing at the Ontario Winter Games last week in Orillia.
"My team consisted of five girls who represented Middlesex Elgin, we went to Orillia for a three day tournament and brought home the bronze. The first day of bowling consisted of seven games and there was about 18 teams there consisting of mixed men's and ladies. We were competing against six other teams. We made it to the step ladder finals, so the final three, however we lost our first game to take the bronze."
Jaden says she managed to qualify for Nationals at the games.
"I got third overall in southern Ontario in the 16-18 competition. The Nationals will feature teams from every province, accept for some of the territories, my team will consist of three girls and we will be representing Ontario, competing against other provinces to take home the gold medal."
Later this month she will be heading to Nationals to represent Ontario in Ottawa at Nationals.