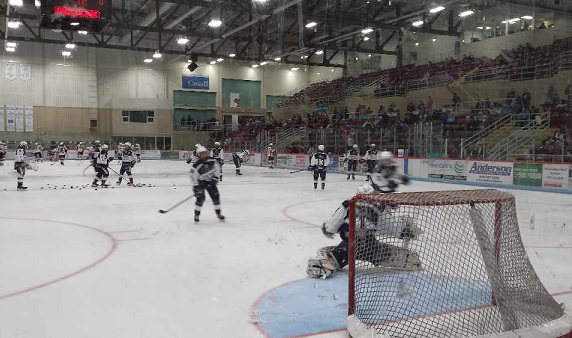 The Navy Vets' free home opener is tonight as they take on the Ayr Centennials.
WOODSTOCK - The Woodstock Navy Vets are gearing up for their 51st season which opens today.
They will be welcoming the defending league and OHA Schmalz Cup champions the Ayr Centennials. Defenceman and returning player Jake Schneider tells Heart FM he thinks the team is going to be even better this year.
"We all have another year under our belts in the league and I think we can only get better from here. I think we are hopefully aiming for a top three finish, grind our way through the playoffs, and hopefully go all the way.
The Navy Vets have a number of returning players this year and are hoping for a big crowd at their free home opener on Friday night at 7:45.
Head Coach Andrew Wilson is really excited to get the season started.
"My first impression of the group is amazing. It is truly special to see how close all these kids are, most of them growing up together. The chemistry on and off the ice is outstanding; I'm hoping it turns into big success during the season."
Bill Wallace, General Manager says this is probably the best team they have put on the ice in a long time.
"I feel this is definitely the most well rounded team the Navy Vets have iced in the last number of years. This team has tons of experience, skill, and the desire to prove the organization has turned the corner and can compete against the best the league. The season opener against Ayr will certainly be a huge measuring stick to show how far they've come and what tweaking may still need to take place."
Forward Braden Hutchison thinks this team has the experience to go far.
"I think the maturity level on this team coming into the new season will be crucial to our success. We have far more team and league experience since my first year, 3 seasons ago. Experience and maturity are paramount in this league and our level of each will be a huge contribution to our success this coming season."