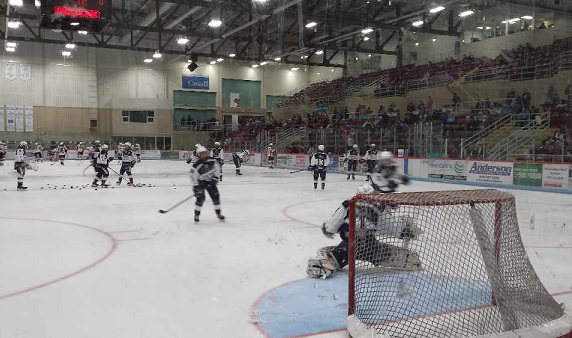 The Woodstock Navy Vets are looking to rebound from a controversial loss on Tuesday night against Tavistock.
WOODSTOCK - The Woodstock Navy Vets suffered a tough loss Tuesday night against Tavistock after 3 goals in the 3rd period.
The final score of the game was 4-3 with the game winning goal by Tavistock being controversial. This makes the Vets 8 and 6 and moves them to 6th place in the Doherty Divisional standings. Troy Vandenbussche picks up a pair of goals though in light of the heartbreaking loss. Navy Vets General Manager Rob Inscoe was in studio Wednesday morning to talk about his team and upcoming games.
"Friday we're at Norwich and then the 9th of November is our Remembrance Day game and I hope people will come out and honour the veterans. It's a special meaning being the Navy Vets so I think its important that people come out and not only support us but our veterans."
Inscoe also added that there are some upcoming events as well.
"Later in the month of November we have Family Sports Night and hopefully we can get the place rocking with all the kids and have some fun putting on a show for them all."
The Navy Vets hope to bounce back in Norwich Friday night at 8 after the heart breaking loss to Tavistock.