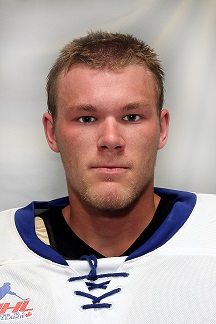 Navy Vets win, Merchants and Trojans lose
WOODSTOCK - The Navy Vets won 3-1 over Tavistock at Southwood Arena on Friday night .
League league scorer Mike Gillespie opened the scoring on the powerplay 9 minutes into the 1st period with his 22nd goal of the season … he now leads the league in points with 35 and goals with 22 .
Justin Elms stole the puck behind the Tavistock bench and came out in front to stuff a shorthanded goal 7 minutes later to give the Vets a 2-0 lead after the opening period .
Tavistock cut the lead to 2-1 in the first minute of the 2nd period .
Mackenzie Langford scored 5 minutes into the final period to restore the Vets 2 goal lead … he also had an assist on Gillespie's goal to give him a 2-point night .
Michael Roefs was solid again in the Vets net facing 29 shots … he leads the league with a 2.01 Goals Against Average …
The win moves the Vets to within 4 points of 2nd place New Hamburg …
The Navy Vets have 2 tough games coming up next … travelling to Ayr on Sunday afternoon for a 1:30 pm game with the 1st place Centennials … and they will host those same Centennials next Friday night Dec.19 at Southwood Arena @ 7:45 pm .
In other action, it was Paris over Norwich 4-1 and Lucan clobbered Thamesford 8-1.