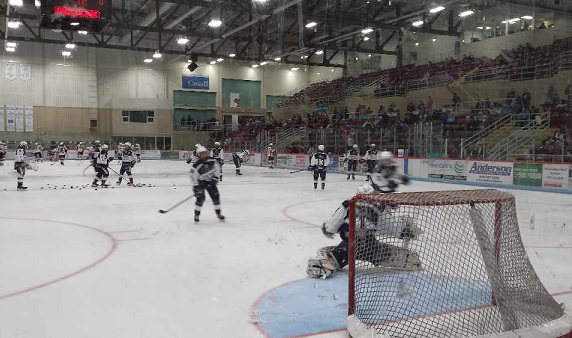 The Woodstock Navy Vets take on Ayr tonight before hosting a Fan Appreciation Night for their final game of the regular season on Friday.
WOODSTOCK - The Woodstock Navy Vets wrap up their regular season with two crucial back to back games.
Things kick off tonight in Ayr against the Cens and then tomorrow night they are pulling out all the stops for their final home game against Wellesley. President Devon Young tells Heart FM they will be having a Fan Appreciation Night on Friday and is encouraging people to come early.
"It's fan appreciation night against Wellesely and should be a really good hockey game as well. We will giving away a ton of door prizes tomorrow night, we always give out door prizes every but tomorrow night we are going to be blowing it out pretty good with a ton of prizes for fans. It's our way to say thank you for another great year, the city and the community has really supported the team these last couple of years, we really appreciate it and I know the players really appreciate it as well and we just want to give back."
Young is encouraging fans to show up early as they will be honouring their 3 overage players prior to the game who are completing their junior hockey careers with the Vets. Those players are Jacob Brown, 4-year veteran Dan Haig, and 4-year captain and 5-year veteran Jake Schneider.
Currently the Navy vets are in a 3 team battle for the 4th, 5th, and 6th place in the standings with Norwich and New Hamburg. How they finish the season will determine their playoff match up next weekend.