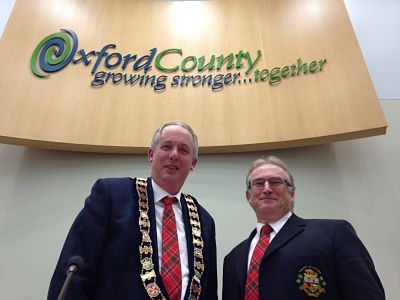 Warden David Mayberry and Deputy Warden Ted Comiskey
South-West Oxford Mayor David Mayberry has been declared the new Warden for Oxford County.
OXFORD COUNTY - A 5-4 vote determined Mayor of South-West Oxford David Mayberry would be the new Warden for Oxford County replacing former Warden and Mayor of East-Zorra Tavistock Don McKay.
Only 9 councillors were on hand for the meeting, Zorra Mayor Margaret Lupton was absent and would have made up the 10th vote. Lupton's absence erased the chance of a tie which had been a previous issue in the last selection of the Warden when McKay and Woodstock Councillor Sandra Talbot tied; the tie breaker ended with a coin toss in McKay's favour.
For the 2014 election of the Warden, Mayberry and McKay were both nominated for the position, however the vote came down to a matter of 1 vote differential in Mayberry's favour.
"It's kind of a bittersweet thing for me, I have huge respect for Warden McKay...the last couple of hours have been kind of a do I think I should or not and I thought I would let the people chose and that's one of the things I am deeply honoured that the people would have said that we have enough confidence in you to do the job," said Warden Mayberry.
Also selected at the inaugural meeting was Ingersoll Mayor Ted Comiskey who was selected as the lone nomination for Deputy Warden.
"It feels great, I think it's going to be a good term, we have some new councillors, we some very healthy conversations ahead of us and I think it's going to be a lot of fun as it usually is."