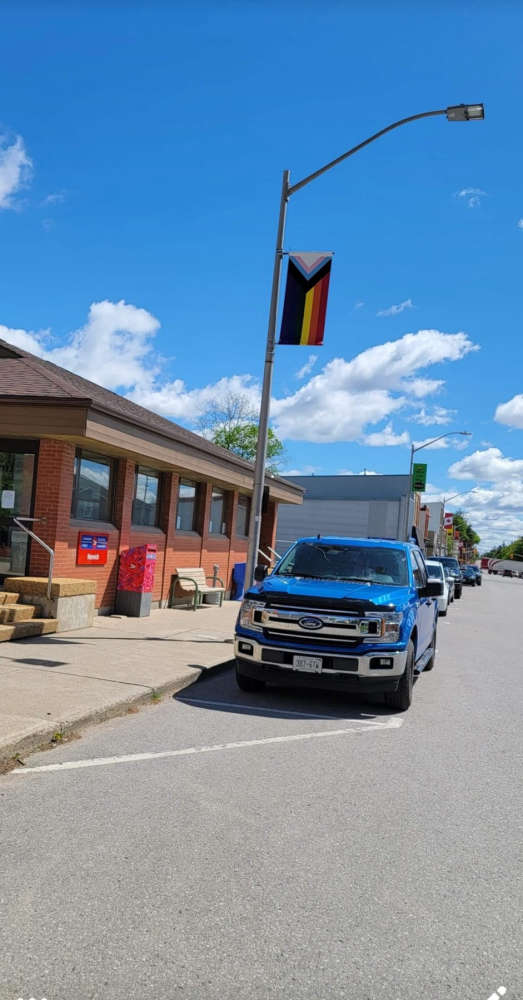 Photo Credit: Oxford County Pride Facebook page, @oxfordcountypride
The Norwich BIA would like to thank everyone who has supported the placement of the Progress flags in downtown Norwich.
NORWICH - The Norwich BIA has released a statement after its Progress flags were vandalized and stolen over the long weekend.
The Progress flag is very similar to the Pride flag. It includes the six stripe Pride rainbow symbol, along with sideways stripes of light blue, pink and white stripes to represent non-binary individuals and people of colour.
The Oxford OPP is currently investigating the theft of three Progress flags off hydro poles in Norwich. Two of them were located on Stover Street and the third flag was on Main Street.
The BIA says the flags send a message of inclusivity while also adding some colour to the downtown core. Many residents in Norwich have been very supportive of the flags, and some have sent donations to the BIA so the flags could be replaced.
The BIA also says it has also received some negative messages, but only a handful of those people actually live in the Norwich community.
The Norwich BIA says it's going to continue to work towards creating a diverse and safe environment for visitors, adding the local economy could be jeopardized if visitors do not feel comfortable.
You can read full statement from the Norwich BIA online here.
Southwestern Public Health has also released a statement on the matter. It says the Pride Progress symbol represents inclusivity and it needs to be on display so members of the 2SLGBTQIA+ community feel welcome and celebrated.
June 1st will mark the beginning of Pride Month and Oxford County Pride has a lot planned in order to celebrate this year. President Tami Murray will be stopping by the Heart FM studio to talk to Dan and Marcie all about it on Tuesday. She will also talk about the new Pride crosswalks that were recently unveiled in Ingersoll, at the corner of Thames Street and King Street.
In alignment with our values, and our vision of healthy people in vibrant communities, we have issued a statement regarding a recent hateful and destructive act in the region that we serve. #oxfordcounty #elgincounty #stthomasproud #pride #lovewins pic.twitter.com/Se4qujMUha

— Southwestern Public Health (@SW_PublicHealth) May 27, 2022