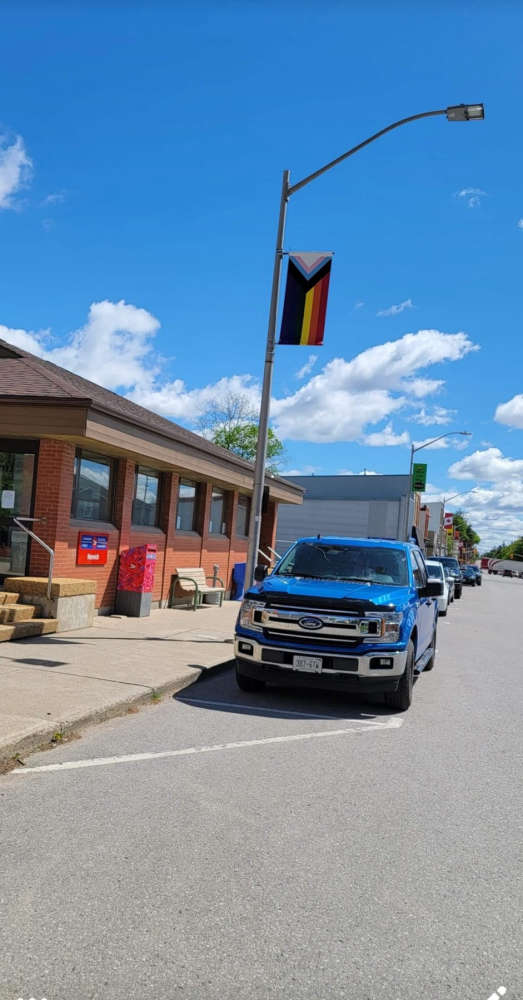 Photo Credit: Oxford County Pride Facebook page, @oxfordcountypride
"What I was trying to do was keep peace within Council Chambers and keep everything under control. I'm obviously being criticized for doing that and I guess justifiably so." - Mayor Larry Martin
NORWICH TOWNSHIP - It was a Norwich Township Council meeting no one will forget anytime soon.
Council heard two delegations last night in regards to the Progress flags on display for Pride Month.
The first delegation was from Jacob Dey. He spoke out against the Progress flags being flown in the downtown core. The second delegation was from Alisha Stubbs, in favour of the Progress flags.
Stubbs says some of the things Dey said in his delegation were shocking, comparing members of the LGBTQ community to Nazis during the Holocaust and blaming them for the cases of monkeypox making headlines.
She was shocked that Council did not stop Dey from speaking right then and there. When asked about the delegation, Mayor Larry Martin admitted that it was hard to hear Dey at times.
"Mr. Dey stood sideways to myself as well as the audience that was in there. When he turned his head to look at the audience to say something, I couldn't always hear what he said. I heard the word Holocaust and at one other point in time I heard the word monkeypox, but I do not know how it led up to that."
Stubbs says Dey's delegation lasted way too long.
"Council had to make some really tough decisions in the moment, but I'm disappointed that 34 minutes was given to say awful, traumatic and hateful words. There was no adhering to the limits."
Martin says he did his best to monitor Dey's delegation time, but it's easier said than done.
"I stopped him once and asked him if he was just about done, and he said he was just about done so I told him to carry on. He still went on, so I asked him if he had much more because he was out of time and he asked for another couple of minutes and those couple of minutes grew."
Once Dey's delegation ended, Stubbs presented her own delegation Township Council. Martin says she did a very good job.
"I give full marks to Alisha for her presentation. Her presentation was basically refuting a lot of Mr. Dey's facts, but the only difference was that she had facts, figures and science to back up what she was saying."
Council received the delegations from both Dey and Stubbs as information.
Martin admits that last night's Council meeting got out of hand.
"I don't agree with everything he (Mr. Dey) said. What I was trying to do was keep peace within Council Chambers and keep everything under control. I'm obviously being criticized for doing that and I guess justifiably so."