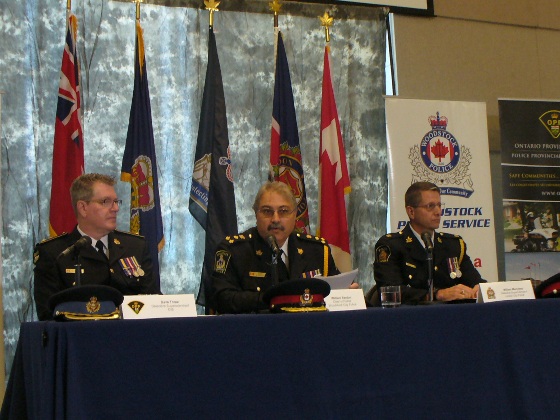 A Woodstock woman is facing 8 counts of first degree murder after 7 homicides at Caressant Care in Woodstock and 1 in London.
WOODSTOCK - A 49 year old woman from Woodstock is facing 8 counts of first degree murder after 7 homicides in Woodstock and 1 in London.
Police say the homicides occurred at the Caressant Care Nursing Home in Woodstock and 1 at the Meadow Park Nursing Home in London. Elizabeth Tracey Mae Wettlaufer has been charged with first degree murder in the homicides. Wettlaufer was working at the nursing homes when the homicides occurred. The murders happened over a number of years starting in 2007.
Woodstock Police, London Police and the OPP held a press conference this morning to talk about the case and they identified the victims. They did not provide a motive and said a lot of the information will be released through the courts. This is still an active investigation and they are still collecting evidence. It is believed the victims were given drugs to cause their deaths.
Wettlaufer was remanded into custody and made her first court appearance in Woodstock this morning. Police launched this investigation on September 29th and due to the nature of the allegations, a multi-jurisdictional Major Case Manager was contacted. Detective Inspector Rob Hagerman of the OPP was assigned to coordinate the investigation.
A few family members of the victims were in attendance at the press conference and their families have been identified.
The victims are listed here:
James SILCOX (84) Caressant Care – Woodstock August 17, 2007
Maurice GRANAT (84) Caressant Care - Woodstock December 23, 2007
Gladys MILLARD (87) Caressant Care – Woodstock October 14, 2011
Helen MATHESON (95) Caressant Care – Woodstock October 27, 2011
Mary ZURAWINSKI (96) Caressant Care – Woodstock November 7, 2011
Helen YOUNG (90) Caressant Care – Woodstock July 14, 2013
Maureen PICKERING (79) Caressant Care – Woodstock March 28, 2014
Arpad HORVATH (75) Meadow Park – London August 31, 2014
One of the questions asked during the press conference was how much grief can one city deal with, referring the Rafferty appeal case on Monday and the number of youth suicides in the community. Woodstock Police Chief Bill Renton said this is a strong and resilient community.
"This is a strong community, a very resilient community, it's very essential in tragic incidents to rally and this community is tough and the community will rally once again."
The Caressant Care Nursing Home did release the following press release to state they are working with police during this investigation.
"Caressant Care Woodstock Long Term Care Home is cooperating fully with police investigating the actions of a former staff member, a registered nurse, who left our Home's employ approximately two and a half years ago.
We remain in regular contact with the Ministry of Health and Long-Term Care. Our highest priority is to continue to provide for the physical, social and spiritual needs of our residents, and that remains our focus. We deeply regret the additional grief and stress this is imposing on the families involved.
We are determined to avoid compromising the police investigation in any way and are therefore unable to provide any additional comment at this time. "
Heart FM will continue to follow this developing story and we will continue to provide you with more information as it becomes available.