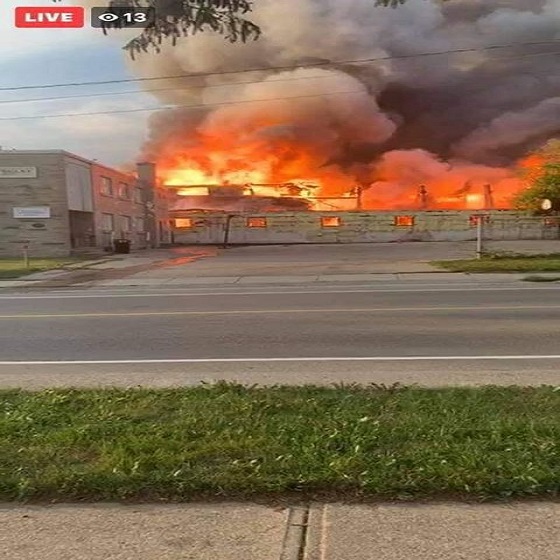 Facebook photo
Woodstock Police Officers with the help of the Canine unit tracked down the suspected arsonist last night arresting him at the 7/11. The fire caused millions of dollars in damage.
WOODSTOCK - Normally the Woodstock Fairgrounds would be filled with midway rides and happy families this time of year. Last night it was full of spectators who watched one of the beloved barns on the property burn to a crisp.
Woodstock Police have arrested a 46 year old man on two counts of arson and damage to property after a massive fire at the Woodstock Fairgrounds on Tuesday night.
Police, Fire and EMS were called to the fairgrounds around 6:45 pm on Tuesday. The Canine Unit was brought in to track down a suspected arsonist, while fire crews battled the flames. The fire completely destroyed one of the barns on the property and caused damage to some of the nearby structures as well.
Officer Striker and General Patrol officers were able to locate and the suspect in the area of Dundas and Huron Streets after the man fled the Nellis Street area. Several photo's of the arrest have been posted on Facebook pages in Woodstock.
Police did not release the man's name this morning. He is being held for a bail hearing later today.
Woodstock Police Service's Criminal Investigation Unit are working in partnership with the Ontario Fire Marshal and Woodstock Fire Inspector on both of these arson investigations. Police will be on scene throughout the day today along with the Woodstock Police Forensics Identification unit and ask that the public please avoid the area. It is estimated the two fires caused millions of dollars in damage.
The Woodstock Police Service would like to encourage anyone having information about this investigation to contact the Woodstock Police Service at 519-537-2323 or Crime Stoppers 421-TIPS (8477) or toll free at 1-800-222-TIPS (8477).
Woodstock Fairgrounds Fire. pic.twitter.com/1iRZM0egoG

— Woodstock Fire Dept (@WoodstockFireDe) September 2, 2020