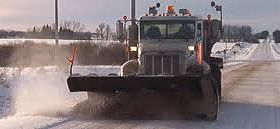 Perth County OPP is reminding drivers to be extra cautious around snow plows after two collisions occurred Friday February 26th.
PERTH COUNTY - Members of Perth County OPP are reminding drivers to drive carefully around snow plows after two recent collisions.
OPP Constable Kees Wijnands tells us about these incidents.
"This past Friday we had two collisions involving snow plows. One involving a tractor trailer unit and the other involving a pick up truck."
The incident involving the tractor trailer occured shortly after 6am on Highway 7 between Stratford and St Marys. The driver of the tractor trailer was sent to hospital with minor injuires. The other collision involving the pick up truck occured about 3 hours later on Line 81 north of Listowel. Thankfully no one was injuried in that incident.
When drivers approach snow plows from behind they are advised to remain a safe distance behind. When a plow is in oncoming traffic, drivers are asked to safely move as far away from the center line of the road as they can.
Wijnands says passing a plow can be very dangerous due to the plows size.
"The snow plows have large extending blades and you have to make sure you clear those blades. They're wider in the front then they appear so you need to remember that."
Wijnands stresses the importance of safe winter driving with tonights expected snow storm.
"With the impending snowfall that is going to hit us today, the equipment that needs to be out there to maintain our roads and the crews on our roadways to keep our roads safe and clear of snow. We're really urging the public to be careful for snow plows."
Woodstock could be seeing about 15-25 centimeters of snow and freezing rain tonight.