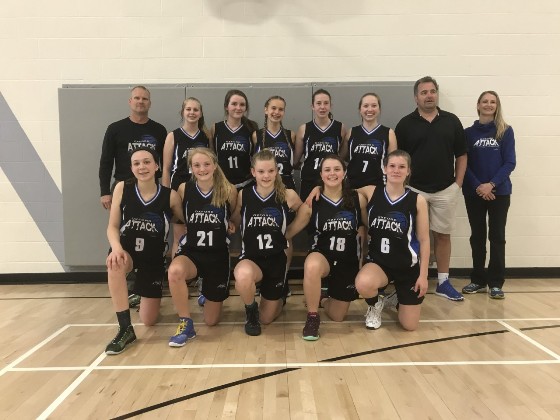 OXFORD ATTACK U-15 GIRLS FINISH 4TH IN DIVISION 2 AT PROVINCIALS - 12TH IN THE PROVINCE!
The Oxford Attack Under-15 Midget Girls finished a respectable 4th place in a competitive Division 2 (out of 6 divisions) at their provincial O.B.A. championships for an overall 12th place finish in the province.
The Attack girls were ranked 7th out of 8 teams in Division 2 going into their provincial tournament but had strong wins against 2 teams in Division 1 earlier in the season and they felt optimistic about their chances to compete for medal in Division 2.
The Attack opened pool play against the Flamborough Fire who had defeated the Attack girls twice earlier in the season. The Attack started the game off strong using an aggressive man to man defense in instead of their customary 3-2 zone which Flamborough was anticipating. The Attack led by 10 points midway through the 4th quarter when 3 of the Attack's starting guards left the game – 1 due to illness and 2 from fouling out. The Attack could not break the Fire's full court press late in the game and the Fire eventually tied the game and won on a last second shot 43-41.
The Attack next faced the 2nd ranked team in Division 2 – the York North Avengers. The Attack continued to play great defense mixing up their full court arrow press and half-court 3-2 zone. The Attack maintained a narrow lead throughout the game and hung on for a nail-biting 43-40 victory to even their record in pool play to 1-1.
The completed pool play against East York. This game was also extremely close throughout with the Attack hitting some key free throws late in the 4th quarter to seal the narrow victory in another low scoring game 34-30.
The Attack then played their nemesis Durham City Chameleons for bronze in the cross over game. Durham had beaten the Attack twice earlier this season in close games. The Attack battled Durham's interior height and the Attack led for much of the game in another low scoring defensive battle. The Attack missed many free throws throughout the game which contributed to their 34-26 loss to a strong Durham squad.
The Oxford Attack U15 Midget Girls finished their season with a 22-8 record and hope to continue their improvement next year as U16's and possibly compete in Division 1 within the OBA.
Oxford Attack U-15 Midget Girls 4th Place Finish in Division 2 at Provincials:
Front Row (L to R): Amanda Witmer, Beth Ewing, Jaime Magoffin, Jaycee Gilbert, Camryn Hatfield
Back Row (L to R): Coach Paul Cowan, Brianne Kunderman, Hannah Cowan, Emma Hagen-Johnson, Alexis Birch, Gillian Worrall, Coach Mike Ewing, Coach Christina Coombs.
Story submitted by Chris Dempster