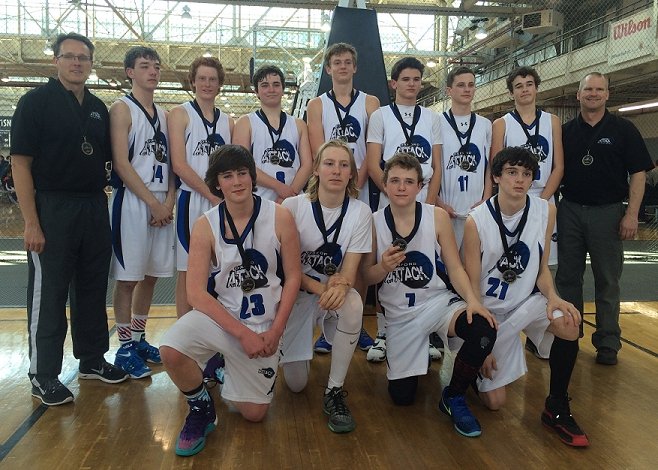 The Oxford Attack U16 Major Midget Boys were filling up a different kind of basket this Easter weekend.
TORONTO - The Oxford Attack Under-16 Major Midget Boys team won their second consecutive tournament at the HoopDome sanctioned O.B.A basketball tournament in Toronto over Easter weekend.
The Attack won a sloppily played tournament finale against their pool opponent, the Mississauga Jayhawks, 49-36. Both teams struggled to score and each committed multiple turnovers throughout the entire game. It took until the 4th quarter for the Attack to finally pull away and seal their second consecutive tournament victory.
They opened the tournament in pool play versus the same Mississauga Jayhawks. The Attack used their superior size and solid 3-point shooting to dominate the Jayhawks en route to a 71-40 win.
The boys next faced the Markam Uniondale Minor Basketball Association who played a zone defense against the Attack, which the Attack easily overcame to a final 58-23 score.
The Attack completed pool play against the Goulbourn Hornets with a strong defensive victory, 58-22.
The Attack faced the local Kitchener Waterloo Vipers in the semi-finals. They played their best game of the tournament against a solid Viper team whose team size matched that of the Attack. The Attack defense once again limited their opponent to their tournament low in points by defeating the Vipers 40-25 to advance to the gold medal game.
Next up for the Oxford Attack U-16 boys is their inaugural home sanctioned tournament on April 8-10, being held at St. Mary's High School in Woodstock. The boys play Friday April 8th at 6pm and Saturday April 9th at 9 am and 4:30 pm.
Oxford Attack U-16 Major Midget Boys – HoopDome Tournament Champions
Front Row (L to R): Adam Bullen, Thomas Morgan, Liam Dempsey, Matthew Keith
Back Row (L to R): Coach Chris Dempster, Shayne Simpson, Ben Jentz, Callaghan Bullen, Lincoln Poole, Lucas Gagnon, Brandon Cowan, Cubby Dempster, Coach Paul Cowan

Article submitted by coach Paul Cowan