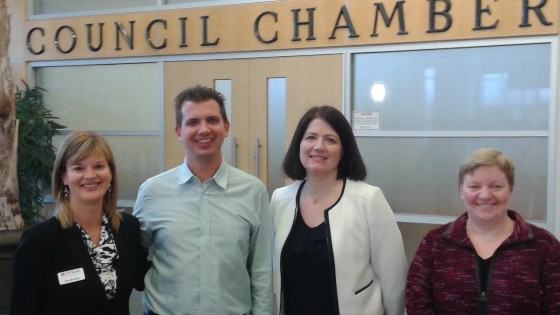 Employees at Oxford County got a chance to sit in on a Leadership Forum today hosted by the County.
WOODSTOCK - Oxford County hosted a leadership forum for their employees at the County administration building today.
Three panelists were invited to participate in a question and answer session and share their personal stories with leadership in workplace. Senior Director of Human Resources for London Hydro Elizabeth Carswell tells Heart FM what she hopes County staff took away from her presentation.
"Careers are fascinating journeys and we don't always know where we are going to end up and that everyday is a learning experience where you can learn from each other and from your teams and from your leaders that support you everyday as well."
The forum also featured Helen Noehammer who is the Director of Transportation and Infrastructure Planning at the City of Mississauga. She explains one of the messages she shared with the audience this afternoon.
"For me one of biggest strengths is really communicating with staff and having a very open and team oriented leadership style because through that you are able to motivate your team, you are able to empower them and you are able to achieve the goals that you have set for them. So you can never over communicate and I think that crosses all cultures and all generational differences as well."

Those in attendance also heard from Niklas Van Haeren who is the President of Uvalux Tanning & Support Centre Inc.