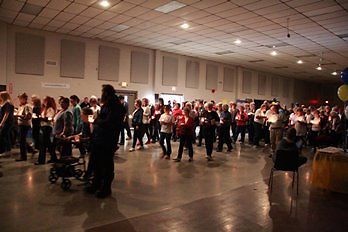 People in Tillsonburg and Ingersoll will get things started for the Walk for Alzheimer's this weekend
It's a serious cause, but people who come out to the Walk for Alzheimer's are sure to have a good time.
This Saturday people will be gathering in Ingersoll and Tillsonburg for the first two Oxford County Walks. Woodstonians will be joining in next Saturday.
Oxford's Alzheimer Society Executive Director Shelley Green says it's not too late to collect pledges and join in as every little bit helps.
"We have to raise 38% of our budget. A lot of people don't know that. Some people just assume we get full 100% funding from the government and the money we raise by fundraising is an extra - that's not the case at all."
Green sees first hand how wide spread the effects of dementia can be - it doesn't just effect the person with the diagnosis.
"This year's Alzheimer Awareness Month theme - which is January - is 'It's Not Just Their Disease, It's Our Disease Too.' And it's so true - you don't know who's dealing with dementia. Chances are we will all be effected in some way during our lives."
The Tillsonburg Walk is happening at the Lion's Auditorium starting at 9 a.m.
In Ingersoll things get underway at the Unifor 88 Building at 3 p.m.
You can find information at the Alzheimer Society's website.