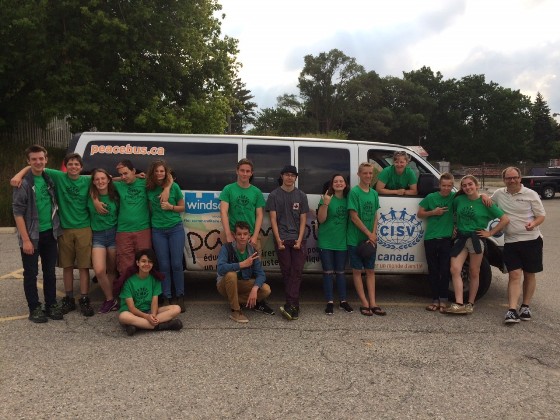 The CISV Peace Bus was in Oxford County today as part of their cross country tour.
WOODSTOCK - A local is spending his summer travelling across Canada.
Grade 9 student, Matthew Hodgkinson is joining the CISV's Peace Bus of volunteers for 39 days. He explains how he got his seat on the Peace Bus.
"So my mom told me there was a program called Peace Bus and she wanted me out of the house for summer, (laughs) we started making a application at the end of the school year and I realized I was super late to sign up for it and I was underage but it all worked out in the end."
The group of young adults have been on the road for a couple of weeks now and stopped by the Heart FM studios this morning. They started their trek in Victoria BC and will end in Halifax. Danica who is from Victoria tells Heart FM their focus this year is on sustainability and they have been volunteering at stops along the way.
"We've doing lot's of volunteer projects so in Victoria we started with marshalling races and volunteering at soup kitchens and then as we made our way into Alberta we did lot's of farm work and also cleaning up forests."
Every year the Peace Bus is looking for new students to join the following year. In Oxford today the bus stopped in at the Green Home Farms to check out the bio digester and will be heading to Waterloo tonight.