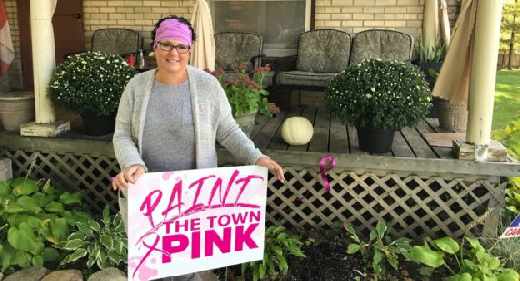 A Dorchester based breast cancer awareness fundraiser is expanding province-wide.
DORCHESTER - Paint the Town Pink is now known as Pink the Towns as the local Breast Cancer fundraiser is expanding across the Province.
Bec Matthews of Dorchester is currently fighting stage 3 breast cancer and she started the campaign last fall to raise money and awareness for the cancer society.
Matthews says a big part of this campaign is raising awareness.
"I am excited to go provincial this year, to exponentially raise more awareness for breast cancer and reach as well as remind people to discuss the silent killer and make a difference. Breast cancer effects 1 in 8 people, if I can reach as many people as possible, we can make a difference together."
Matthews says they raised $13,380 for breast cancer awareness and research last year.
"Last year we sold 1200 signs in a matter of two weeks and I was turning people away, because I couldn't get them manufactured fast enough."
This year she has set a goal of selling 5000 biodegradable lawn signs across the Province. They also will have door hangers for sale, t-shirts and other merchandise that will go towards breast cancer awareness and research related initiatives.
You can find more information and purchase a lawn sign, online here.