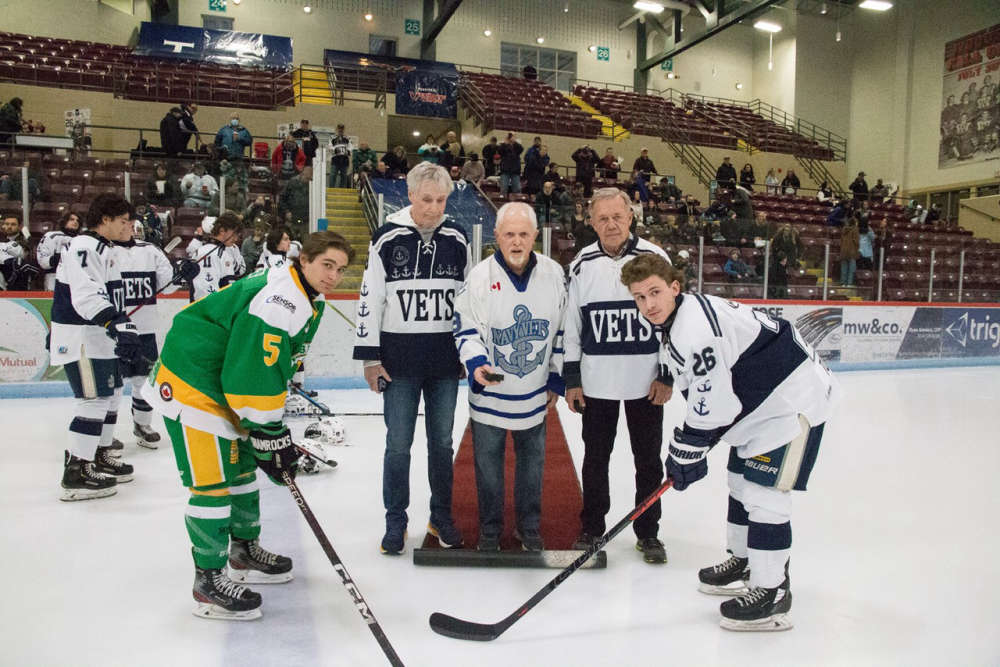 Submitted photo
The Woodstock Navy Vets celebrated two home wins over the Hespeler Shamrocks over the weekend. The score was 8-3 on Friday and 6-2 on Saturday.
PJHL - It was a weekend to remember for the Woodstock Navy Vets.
The Vets celebrated an 8-3 win over the Hespeler Shamrocks at Southwood Arena Friday night, in their 2000th regular season game in franchise history. Don Izzard Jr., Gene McLaren, and Scott Seagrist were in attendance in order to drop the puck in the opening ceremony. They were all part of the very first Woodstock Navy Vets team back in 1966.
Liam VanBradt scored the first goal almost 3 minutes into the first period to spark the annual Teddy Bear and Pajama Toss. All of the donations went to Power of Hope and the Woodstock Police Service.
The Vets were back in action on Saturday night for another home game against Hespeler. Woodstock celebrated a 6-2 win that night as well.
Meanwhile the Norwich Merchants shutout the Braves in Tavistock on Friday 3-0. The Merchants also suffered a 3-1 loss to the Firebirds in New Hamburg yesterday.
The Woodstock Navy Vets currently sit in fifth place in the Doherty Division standings with 21 points, behind the Norwich Merchant with 25 points and the Tavistock Braves with 26 points. The New Hamburg Firebirds are currently leading the division with 40 points and they're followed by the Wellesley Applejacks with 32 points.
In the Yeck Division, the Thamesford Trojans crushed the Petrolia Flyers 3-0 on Friday but fell to the North Middlesex Stars 5-2 on Saturday. The Trojans are currently leading the division with 35 points.