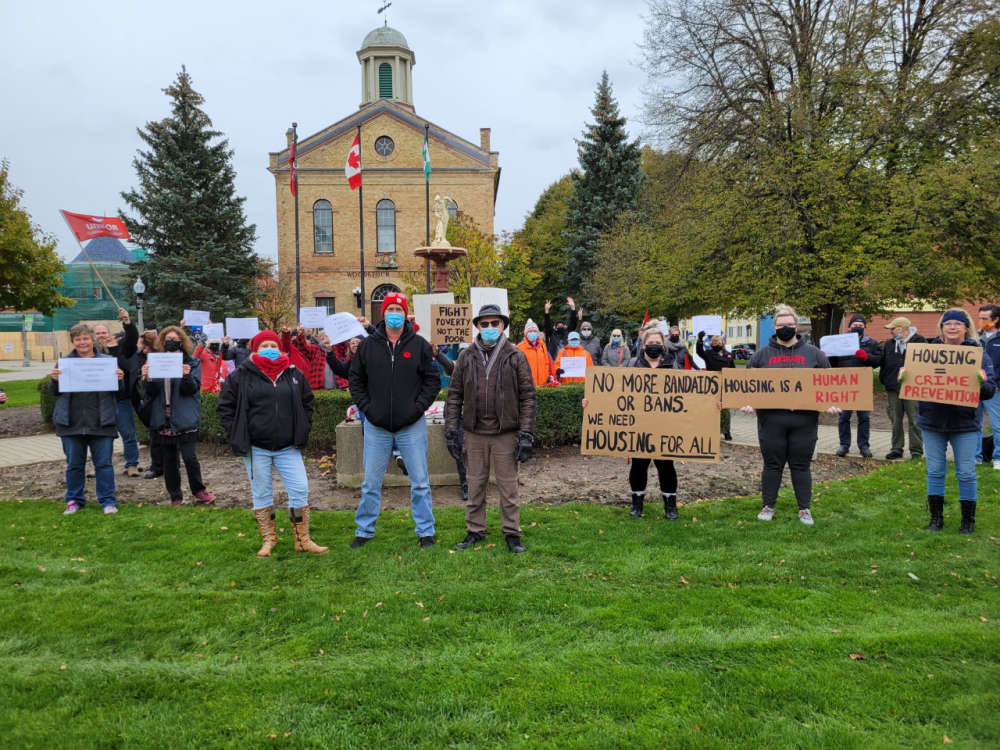 Dozens of people gathered in Museum Square yesterday afternoon, protesting City Council's recent decision to remove all of the benches and picnic tables in the downtown core.
WOODSTOCK - Museum Square was taken over by protesters yesterday afternoon in downtown Woodstock.
They are upset with City Council's recent decision to remove benches and picnic tables from the downtown core. Part of the reasoning for the move was Council argued the only people using the benches are the ones causing the problem.
Chair of the Oxford Coalition for Social Justice Bryan Smith disagrees.
"They say the people sitting downtown were causing the problems, I would love to see the proof because I haven't seen any proof of that, I have seen the allegations. I have seen the video of the two people lighting the fires, no proof that is among the homeless population and even if that was the case, that would be percentage of the population engaged in negative acts at under 2 percent of the population. Take any other sample of the population of Woodstock or Oxford County and what would be the percentage of people doing things that others would disapprove of."
The protest was also organized by Unifor Local 636, who say this is a band aid solution, that only punishes the homeless in our community. President Brent Thompson says taking away benches does nothing to address the problems facing downtown.
"Everyone downtown here wants to see the downtown cleaned up, fixed and things done right but this is not the way to go about it. They need to zone for places like safe injection sites, they need to zone in order to have affordable housing so we can do this. We can't just come in here and have no measuring metrics of what is successful, Council has no way of knowing if removing the benches would be in anyway helpful."
Thompson says it is Unifor Local 636's job to hold the politicians feet the fire and keep them accountable. Vice President Melissa Holden says this move was only done as a punitive action against the homeless in downtown Woodstock.
"The perception is that this was punitive to the less fortunate within our community and I think it is important to draw attention to the bigger issue happening in our community right now, which is homelessness."