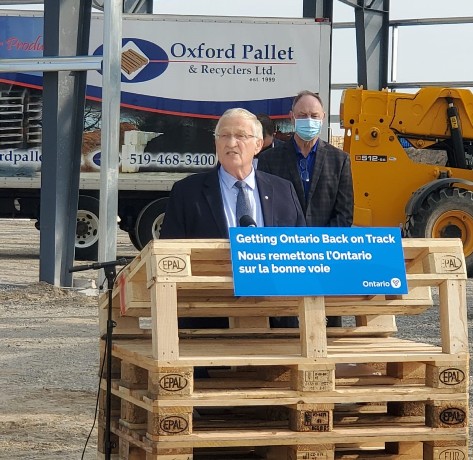 photo courtesy Ernie Hardeman Twitter
Several Ontario Cabinet Ministers were in Norwich today to announced $2 million in funding for Oxford Pallets that will create 20 jobs and double the plants production capacity.
NORWICH - The Ontario Government is providing $2 million to the wood products company, Oxford Pallet.
The money will be used to expand operations at the local company and introduce innovative robotic and vision equipment to boost productivity and create local jobs. Oxford Pallets is the first company to be approved for funding under the Forest Sector Investment and Innovation Program.
Several Provincial Cabinet Ministers were on hand for the announcement today in Norwich including, John Yakabuski, Minister of Natural Resources and Forestry, Vic Fedeli, Minister of Economic Development, Job Creation and Trade, Ernie Hardeman, MPP for Oxford and Minister of Agriculture, Food and Rural Affairs, and Mike Harris, Parliamentary Assistant to the Minister of Natural Resources and Forestry.
Minister Yakabuski says these investments are mean to support the forestry sector and help with the economic recovery.
"These investments are absolutely critical to support the province's vital forestry sector and start us down the road to a strong economic recovery. We will continue to do everything we can to support our local businesses and forest sector to create good-paying jobs and economic opportunities in every community across this province."
The investment will create 20 new jobs, double the plant's production capacity, and increase lumber purchases from regional sawmills and lumber wholesalers in Ontario by more than 30 per cent. The innovative equipment and technology planned in the company's expansion is a first of its kind in North America's pallet industry. Minister Fedeli says as communities across the province continue to work together to recover from the effects of COVID-19, Ontario's business community remains at the heart of our economic recovery efforts
"Our government continues to be laser-focused on making targeted investments that support homegrown businesses like Oxford Pallet to help them create jobs and remain competitive."
Local MPP Minister Hardeman says that Oxford Pallet provides essential wood products like crates, bins and mulch to many industries, ranging from packaging and transport to biofuel and farming.
"Investing in innovative and sustainable solutions is critical to the economic growth of communities across rural Ontario. Today's investment in equipment to manufacture made-in-Ontario products helps strengthen the province's forest sector and creates jobs for the people and families in Oxford County."
Fantastic Ontario businesses like Oxford Pallets are a perfect example of the manufacturing might which will play an important role in our province's economic recovery and future success as we work to bounce back from this pandemic. pic.twitter.com/32Ygj8cOB4

— Ernie Hardeman (@erniehardeman) September 24, 2020