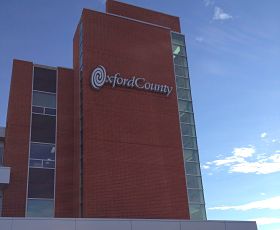 The County of Oxford is updating technical railway standards for two County road crossings.
OXFORD COUNTY - Oxford County Council has approved upgrades to CP Railway crossings on two County Roads.
The two railway crossings; one on County Road 19 and the other on County Road 27 are the only County roads without a warning system in place at the railway crossings. Director of Public Works Rob Walton explains what prompted the decision to update the technical standards of these crossings. "County Road 19, we've had a review of the crossing for Transport Canada guidelines and it is suggested that we put in warning lights at that intersection that would be subject to cost sharing between the County and the railroad."
A speed reduction and stop sign will be installed at the Oxford Road 27 crossing in South-West Oxford. While a speed reduction zone will be extended by 150 metres on County Road 19 in addition to a light and bell warning system. The railway alarm system's can cost around $100,000.
"That needs to be both budgeted for and negotiated...we are in dicussions with the railroad about that and it's our hope that those signals will find a way to be financed within our 2015 budget," said Walton.
The County is currently in talks with Ontario Southland Railway to share the costs of the alarm system. As for when residents can expect to see the extended speed reductiion of 60 km/h, Walton said,"that should happen very soon, the by-law was passed at council today for that to happen and it's just a matter of getting locates and doing the work required."
Walton adds that winter weather may slow down the installation of the signage.
"At this time of year we worry about what our workers are doing for weather so weather comes first these other things come second, I would imagine that's going to happen in the next couple of weeks."