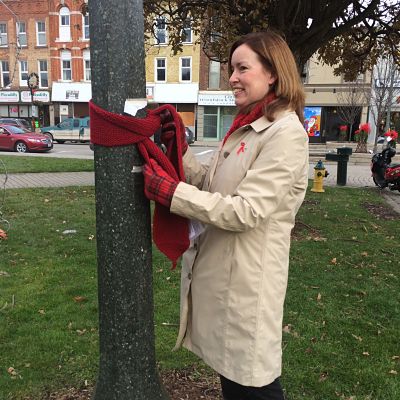 Public Health Nurse Gayle Milne ties a red scarf to a tree in Museum Square as part of the Red Scarf Project
Hand made red scarves recognize World AIDS Day
WOODSTOCK - Trees and lamp posts around Dundas Street in Woodstock are tied with red scarves and carry information on HIV/AIDS.
Public Health Nurse Gayle Milne says it's part of the Red Scarf Project in recognition of World AIDS Day.
"Today is World AIDS Day which is the day the world marks the remembrance of people we have lost to HIV and AIDS, celebrates all the accomplishments we have had so far, and kind of recommits to the future and all of the work that's still to come to try and put an end to the epidemic in the world. Today we thought would be a perfect day to put these scarves up."
Milne says each of the 75 scarves were hand made by members of the community. "Each scarf has a tag on it that invites people to take the scarf. It has information about HIV on it and also where to get tested if they were concerned and wanted testing and also inside is a little package with two red ribbons. The red ribbon is the symbol of HIV awareness so they are welcome to give those red ribbons to two other people to keep that conversation moving."
Milne says it's very difficult to give local HIV/AIDS statistics "just because we don't really know how many people live here who are HIV positive. We get data when people are first infected in order to help prevent the spread of the infection but we don't have really good statistics as far as how many people are effected or living with HIV locally but it is definitely in Oxford County." 34 million people around the world are living with the disease including 71,000 in Canada with a quarter of those not knowing they are infected.
"HIV is spread through blood and body fluids. The body fluids would be things like seminal fluid, vaginal fluid, anal fluid, blood, breast milk but it's not spread through saliva. It's just thinking about activities you do that might expose other people's mucus membranes to those body fluids so that's sexual activity. Using condoms would be one prevention method. If people are injecting drugs then there are needle exchange program where people can access clean needles."
Free HIV testing is available on a confidential basis though Oxford Public Health.